Sovereign wealth funds can take advantage of current situation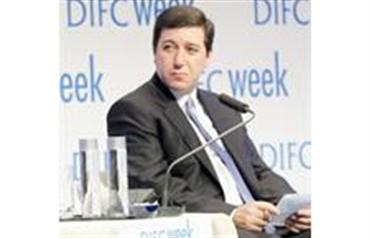 The region is well poised to weather the worst of the financial crisis, said Dr Bassem Awadallah, Vice-Chairman of Jordan's King Abdullah II Fund for Development.

However the impact of the economic downturn on commodity prices will have a long-term effect and these adverse impacts should be heavily managed. Awadallah said there would have to be a major change in the way infrastructure projects were funded, with much of the finance in future coming from public rather than private sources. "The funding issue will have to be faced, especially in countries like Jordan, Yemen and Lebanon," he said. "The financial and credit crunch will have a huge impact – there is a limit to what Arab funds can do."How has Jordan been affected by the crisis and what opportunities are up for grabs there?
Jordan offers tremendous opportunities in tourism, services and major infrastructure projects. At these times you see historically depressed prices for assets. I can see tremendous opportunities for people who can afford long-term funding. Jordan has undertaken major restructuring efforts over the last 10 to 15 years and has become more resilient to external factors than previously. Will Jordan be affected by the global economic slowdown? Of course. Will Jordan be affected by the lack of available credit for financing major projects? I am sure. This means we must address these issues, not only through local funds but also through regional funds in order to look seriously at how best to continue funding large infrastructure projects.
A number of research papers have said that with the financing squeeze hitting the region, infrastructure needs are rapidly outstripping public resources despite the years of massive oil windfalls.
Countries that have started to restructure like Jordan, Yemen and Lebanon have relied on market capital in order to fund major infrastructure projects. The financial and credit crunch will have a huge impact – there is a limit to what Arab funds can do. Public sector deficits are growing. And in the absence of public finance we need private developers, who also face challenges funding these projects. This necessitates action by the region and globally as well – by the World Bank, by the IFC, by other organisations that need to address this issue – on how major infrastructure projects in these countries are going to be funded in the absence of public finance and today also in the absence of private finance.
Initially we were told this region was insulated due to its massive surpluses. Then the price of oil dropped and agencies began downgrading economic growth forecasts. What is the real status quo and where are we heading?
This part of the world is not uniform. There are countries that are oil producers and there are countries that are not. Some have introduced better structural reforms than others and therefore they may be more resilient to external shocks. But the general view is that the economic impact may offer opportunities to some and challenges to others. We have to recognise that we have seen many surpluses in this part of the world, in the Gulf in particular, and this has to be looked at in a more proactive manner. The sovereign wealth funds here can take advantage of the current situation. That said, the impact of the economic downturn on commodity prices will continue to have an impact in the region up to the long term. That has to be heavily managed.
Turning to Dubai, it has consistently said that its debts are manageable. The emirate revealed that its sovereign assets stand at $90 billion excluding the Metro and other infrastructure projects compared to its sovereign debt of $10bn. As an economist what do you make of this?

I think whatever issues there are in Dubai will be addressed. There is a good governance model here and I think there is enough experience and wisdom on the part of Highness Sheikh Mohammed bin Rashid Al Maktoum, Vice-President and Prime Minister of the UAE and Ruler of Dubai, and the people around him and they will be able to deal with this issue. Obviously the credit crunch is going to affect Dubai because Dubai has been relying on credit. This is a time that is good for consolidation. It is a good time for people to sit together and compare notes and come up with creative solutions.
Asset valuations here have fallen drastically in the past few weeks. Is this the best time to buy?

Now is absolutely the time to buy. Whatever opportunities arise in Dubai are going to be extremely profitable. Whoever has the advantage of picking up an asset in Dubai at such prices will find it will be extremely profitable in the long term.
PROFILE: Dr Bassem Awadallah, Vice-Chairman, King Abdullah II Fund for Development
Awadallah previously served as Chief of the Royal Hashemite Court, Jordan, and Director of the Office of His Majesty King Abdullah II.
He also served as Jordan's Minister of Finance, Minister of Planning and International Cooperation, Director of the Economic Department at the Royal Hashemite Court and Economic Advisor and Economic Secretary to the Prime Minister. He worked in investment banking in the UK from 1986 to 1991. He holds a PhD and MSc in Economics from the London School of Economics and a BSc in Foreign Service from Georgetown University, USA.
Follow Emirates 24|7 on Google News.