Target: 10% of global luxury business from Middle East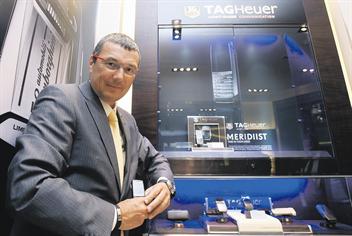 As the luxury sector rebounds from the worst recession it has faced, top brands are expecting great things from the year ahead.

And as might be expected, the Middle East is central to those plans. Tag Heuer's Worldwide President and CEO, Jean-Christophe Babin, told Emirates Business recently that he hopes the region can account for as much as 10 per cent of the brand's global business, pointing to the mix of passionate nationals and high-spending tourists. And no matter what shape the recovery takes, he believes the worst is over for what he calls "a magic region".

More so for Tag Heuer, which celebrates its 150th anniversary this year, and is bringing a mix of new products and celebratory reissues to shops across the Middle East.

Worldwide, LVMH-owned Tag Heuer is the number four brand in terms of value, Babin said, with the majority – 90 per cent – of its watches retail between €1,000 (Dh5,024) and €5,000, and it has about 10 per cent of the world market for watches. So products such as the luxury Lamborghini Meridiist limited-edition mobile phone and the Monaco V4 watch will continue to find a prominent place in the brand's stores here.

Babin shared the brand's performance with Emirates Business and explained his strategies for the year ahead.


The watch industry was the worst hit among the luxury sectors in the recession. How is Tag Heuer doing?

Yes, the crisis has been very tough in the sense that the worldwide market, as expressed by Swiss watch exports, is down 25 per cent year to date. But we have to compare that to year 2008, when the same market was up 16 per cent, and then in 2007, when it was up 15 per cent. So eventually, 25 per cent down in absolute terms is a lot, but let's not forget that this market went up from CHF10 billion (Dh34.24bn) to CHF16bn in just four years. So we're losing it back to CHF13bn or CHF13.5bn for 2009, but as compared to 2005/2006, that's still a huge market.

The second thing is that many regions, including the Middle East, have seen a promising turn around since the summer. If you look at the overall market, it bottomed out around May-June and obviously a very quick stock exchange recovery and the fact that many banks have announced profits have played a role in rebuilding consumer confidence – this sort of macro-economic news has influenced consumers to spend again.

In terms of Tag Heuer, how did the brand do in 2009, what were sales like?

Obviously, we lost sales compared to 2008. As a company, we never mention sales by brands, but I can say our sales were down by less than the 25 per cent drop the market has seen, so we did better than the market.

Can I say single digits?

No, it's just double digits. But we are used to growing 15 per cent a year, so losing sales for us is quite a shock.

On the other hand, the fact that we do better than the market, that we lose much less than the market and therefore [gain] marketshare, for us is very encouraging. Because it means the value for money positioning we have tried is working especially at this time, which is quite logical. Let me say here that by value for money, I don't mean that Tag Heuer is cheap, but that between €1,000 and €5,000, you won't find anything better than Tag Heuer.

So overall, your performance in 2009 was better than 2007?

2007 was also a record year. 2007 and 2008 were just like flying, just like walking on the water, so it's closer to 2006.

How about regionally? How have sales been affected in the Middle East?

Here, it is very interesting. Kuwait has registered better. On the other hand, Dubai was the market where we grew most in the past few years. The other Gulf markets, which grew less in proportion as compared to Dubai, suffered less as well. In places such as Abu Dhabi, we could be looking at positive growth for last year. We've opened a new boutique and then the Grand Prix boosts Abu Dhabi business enormously, because Tag Heuer is tied very much to the world of GT cars and motor racing. But this boost is very specific to Tag Heuer; a lot of brands in Abu Dhabi do not necessarily enjoy the same developments.

And in other parts of the region?

We're doing very well in Iran. We have been one of the first brands to pioneer retailing in Iran with our boutique in Tehran. And the boutique is doing extremely well. In the Iran market, Tag Heuer was the number two brand, which was very good.

So what percentage of global business would you say comes from the Middle East?

In the Middle East, until a few years we were quite underdeveloped. The Middle East, I believe, today should represent 10 per cent of a luxury company's business. That should be a good weight. For us, it's only right now five per cent, but it comes from two per cent in 2002.

That's quite a lot, then?

Yes, but we've done a lot, eh. Take Dubai, we've opened two boutiques; in Abu Dhabi, just opened one; also in the famous Yas Hotel, we have a boutique, one of only three at the hotel. In Qatar, Doha, we have two boutiques and one in Kuwait, so we've expanded brand visibility enormously. That has been helped by our partners, such as Ahmed Seddiqi and Sons, whose heavy investments in advertising and retailing have helped position the brand exactly where it should be in terms of profile. The location of our store in Dubai Mall, for instance, epitomises exactly what Tag Heuer is.

I belive you're aiming for 20 outlets across the GCC?

Worldwide, by the end of 2009 we had more than 100 boutiques – either owned by Tag or franchises. Ginza, Singapore, Abu Dhabi were a few of our new stores last year. Our model here is in partnership with Seddiqi and our stores here are usually operated by our partner – even though the investment is something we share together, because it's a lot of money as you can imagine.

In some countries, boutiques are operated by licensees, so it's a pragmatic model which really allows us to rely on the local knowledge of real estate. Because you need not only to have the right brand, to have money but also the right connections. It's a battle for real estate, a battle for good real estate and without the right connections, you wouldn't get that location, even if you proposed double money.

What about 2010? What growth numbers are you looking at here?

We're very positive about this region. We have to make sure that five years from now, the Middle East accounts for 10 per cent of our business. The wealth of the region, the huge size of the domestic market – which is huge and where our high-end pieces such as the Grand Carrera Calibre 36 Caliper and the Meridiist do better – and the fact that the region attracts a lot of tourists and expatriates makes it a magical region.

In terms of growth, I don't like to bet, because as a good manager you don't bet too much – but in business, you have to bet and I bet you that when we meet again at the end of 2010, we will be up double digits. For two reasons. The overall market is already coming back – there may be an L or W shaped recovery worldwide, but in the Middle East, I'm pretty sure the worst is over. The market for luxury watches is already doing better. Secondly, Tag Heuer has excellent weapons to go through 2010.

That's right, you're celebrating 150 years?

We are and it's a unique, once-in-a-lifetime occasion which allows us not only to debut innovative new items, but also replicas of icons of our past, which obviously better help communicate our origins. Few people know that Tag Heuer is one of the oldest Swiss watchmaking companies, for instance, as well as one of those companies that sets more milestones, such as the tenth of a second, the hundredth of a second, the thousandth of a second.

So this is a great occasion to talk about our heritage, our know-how, our expertise. The aim is to mix avant-garde products with vintage editions, to celebrate 150 years and look to the future at the same time.

It is also the second year of your Meridiist phone.

Yes, in 2009, we have been a bit constrained by production ramp-up. But we have now better mastered the production process and we have a better idea of the retail processes. Therefore, we can now come up with limited editions, such as the Lamborghini model. We also now offer many combinations, including a model for ladies, about 15 designs in all. It's not a huge collection, which is great news for our partners, because it means the sales and profit per square metre is huge, it's a small product with very high value.

Are you going to expand production? How many mobile phones do you produce?

Not enough. The first year was a lot of fine tuning, and demand has far outstripped supply. We average about 800 pieces a month, but demand is much higher. The issue now is supply and 2010 looks much better for supply. We've mastered all our component manufacturing and assembly, which is as complex as a luxury watch, with 400 different components, many of them interfaces. On the chronograph there are only three interfaces; here you have 24.

What about focus markets? Are you looking at China? India?

At any global company you cannot be one of the leading luxury watch companies without being strong in most countries. Otherwise it doesn't work. Obviously, our primary focus remains the United States; in terms of luxury goods, the US is still the richest market, with about 22 or 23 per cent of the market. Despite the crisis, American consumers remain by far, in terms of upper middle class and rich people, the number one nation on earth. So obviously, we will focus a lot on the US.

We focus a lot on China, which is right now a weak spot because we launched in China only in 2009.

The Middle East is obviously a key market, and if we are to reach our targets of six to 10 per cent here, we have to grow it faster than many other regions. We have plans to further expand here, into new malls as well as to further leverage motor racing in the Middle East, with the Grand Prix in Abu Dhabi and Bahrain. We had a very successful ADGP limited edition and we may repeat that in 2010 and we're considering also doing the same in Dubai although there is no race here. There are a lot of ideas.

Let's talk a little about marketing. Tag Heuer is known for its celebrity marketing, what with links of Shah Rukh Khan, Leonardo DiCaprio and so on. But what do celebrities do for the brand?

When we started our association with celebrities in 1969, when Jack Heuer, my predecessor, wanted to launch the Monaco. That was a double revolution – it was a strong innovation in terms of movement as the first-ever automatic chronograph, and in terms of design, it was a breakthrough, with a bold and daring, big, square timepiece at a time when timepieces were small and round. To epitomise these two aspects, he decided to combine two big celebrities, the Formula One driver Jo Siffert and the film star Steve McQueen, who wore the Monaco in the 1971 movie, Le Mans.

So the association works with celebrities if there is consistency and legitimacy. In other words, not every brand can use celebrities and a brand can't just use any celebrity. Tag Heuer has been using celebrity endorsements for 40 years, so we are legitimate, most people have seen us collaborate with celebrities for 40 years. Secondly, our celebrities always combine sport on the one hand with glamour on the other. And they are celebrities from the worlds of Hollywood, Bollywood, cars and golf.

That keeps it legitimate and consistent. Finally, all the people we are working with, whether Mohamed Ben Sulayem or Lewis Hamilton, got to where they are through determination and talent, by working harder than the average person to come up through superior achievement in life. Which, again, is the Tag Heuer philosophy, as embodied by out watch masters when they invent incredible timepieces such as the Monaco V4, which uses belts rather than gears. The V4 is not only a great idea, but it took incredible determination and hard work on to of talent to make it happen.

OK. A large part of your marketing spend is on social media. But why does a luxury brand need social media? Where's the brand fit?

Tag Heuer's use of digital media put it at the top of a new "Digital IQ" ranking system developed by the L2 Luxury Lab of the NYU Stern School of Business. So we're well ahead of the market and we invest between five and six per cent of our marketing resources on the internet. That's not a lot yet, but it's increasing year on year and is probably one of the highest among the luxury watches brands. And we do that because it's very efficient.

We know that worldwide people tend to read less on paper and more on screen. It's a fact. Magazines and newspapers are seeing subscriptions and readership decline worldwide, not because people are reading less, but because they read differently, they read online. So to maintain an increase of visibility, using the internet – especially for an avant-garde innovative company – is very natural.

Are you looking at expanding into other areas? You're in watches, phones and spectacles.

We are also in accessories. We've tried to apply some of our brand DNA and codes to accessories, giving them a slightly sporty twist. And we're doing men's accessories because our even though 25 per cent of our market is women, our focus is men.

Unlike Omega, which is doing jewellery for women, we do jewellery for men – again, that's more legitimate. And then we have other articles such as USBs, like our 30GB credit-card-sized memory card which allows you to travel without a laptop – simply go to your hotel's business centre and plug it in and you've got all your data.

Finally, in terms of positioning, Tag Heuer offers a range from entry-level watches to high-end pieces that retail more than $100,000 (Dh367,000). How do you straddle that comfortably without losing your brand DNA?

That's a very good question. Yes, it's a nice spread, from €900 to €100,000 at the other end. But having said that, if you open a Tag Heuer catalogue, 90 per cent of pieces retail between €1,000 and €5,000. That's the market we dominate worldwide and that allows us to remain focused.

But at the same time, as we are big and profitable company, we can engage in projects like the V4, which in terms of R&D, is thinking out of the box, it really is a big revolution. And we can invest in it for years on end to make it happen, because that is the luxury we have. And then those products are legitimate, because people know they were difficult to make and that we invested a lot of money to make it happen.

But developing a product like that ultimately benefits the mainstream. Because the technologies we develop for the V4 will come down to other watches. It's like Mercedes designing Formula One cars and injecting some of that learning into road cars. That's a huge benefit.


PROFILE: Jean Christophe Babin Worldwide President and CEO, Tag Heuer

Born in Paris in 1959, Babin has been at the helm of Tag Heuer since November 2000, when he moved from Henkel KGaA, the German multinational dealer of cosmetics, detergents and chemicals. Since taking over at Tag Heuer, he has upgraded the brand's image and its distribution and marketing strategies, while overseeing its diversification into mobile phones, and is credited with signing golf icon Tiger Woods to the brand.

An MBA from the European business school HEC, Babin has worked with Procter & Gamble and the Boston Consulting Group.

An avid sailor and skier, he is married and has five children.
Keep up with the latest business news from the region with the Emirates Business 24|7 daily newsletter. To subscribe to the newsletter, please click here.
Follow Emirates 24|7 on Google News.