There's material for an endless number of books in the Middle East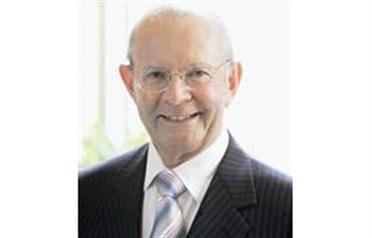 Judging by the queue of book lovers waiting patiently for best-selling author Wilbur Smith's talk at the recent Emirates Airline International Festival of Literature – which stretched for nearly 100 metres – he is one popular man. After all, the festival's headliner has sold over 70 million copies worldwide. The 76-year-old novelist was in town to launch his 32nd book, Assegai, as well as sit down in discussion with fellow author Giles Foden to talk about everything from his upbringing to his work. Emirates Business listened in…


Let's go back to your childhood and how everything started out. Do you remember those days?

I'll never forget them. I can still see my childhood so clearly on the ranch: The fireplace, the horses, the dogs and my father's Land Rover parked outside. I remember the Land Rover well, because back in those days, they were still very new, so it was a special thing to have. It was a wonderful time for a small boy. It was an outdoor kind of life, but in the evenings there were books.

Unfortunately, when it came to education, you had bad experiences with a couple of boarding schools.

They were terrible. I try to not remember them. My father sent me in order "to make a man" out of me. That meant cold showers, copper sulphate in the coffee and just weeping into your pillow because you're so homesick, but at the same time, you had to prevent the other boys from seeing you so they don't pick on you even more. I was also forced to play games I didn't understand.

But there was one teacher who encouraged you to pursue your dream of becoming a writer, correct?

Yes, one teacher I look back on with great pleasure. He was called Mr Fuller, and like me, he liked books, he liked stories. And he immediately picked on me, because the one thing I did well at in school was write essays. He encouraged me and suggested books for me to read.

But when did you decide you were going to become an author?

Well, I actually decided that I was going to be a journalist. I didn't think I could write novels and have them published. But at least being a journalist would give me the opportunity to write. So I went to my father and told him; and he was appalled and flabbergasted that I wanted to do something "airy fairy" like journalism. I won't use the expletives used in that conversation, but it was along the lines of: "Don't be a 'something' 'something' idiot – you will starve to death. Go get a real job." So I did commerce and as soon as I got the qualification, I started writing. I got a job in income tax, and then I wrote in the evening. However, at work, I had an unlimited supply of stationary, so I started writing at work as well. It was there I wrote my first novel.

Tell us about your encounter with your publisher and later agent, Charles Pick.

My first novel was never published. I sent it to my agent in London, and received a dozen rejection slips. From then I decided I would never be good at it and gave up writing. A year on, the lady who acted as my agent wrote to me asking for my new book. I told her there wasn't any. She said I better start writing the next one soon, as she had a feeling I might make it. That's when I came up with When the Lion Feeds. Within 10 days I got a reply that it was going to be published. I flew to London to meet my publisher, Charles Pick, and that's he gave me advice I never forgot: "Write for yourself, and write about what you know best." Since then I have written only about Africa.

The problem with my very first novel is that I wrote stuff I thought people wanted to read – it was very political and, frankly, very un-publishable. As for When The Lion Feeds, I wrote about me, I wrote about the ranch, I wrote about the dogs on the ranch, I wrote about my father. The book followed the lives of Sean and Garrick who are twins who couldn't be more different – one was based on the good side of me, and one was based on the bad side.

What is the writing process like?

The way I do it is that I write one year, and then take the next year off. Every time I finish a book, the process is so exhausting, I declare it'll be my last. I spend that year on my island in the Seychelles, and I don't think about writing; I spend it reading other people's books. But then during my time off, another novel presents itself to me; something begins to happen beneath the blanket, so to speak. Then I take my characters and say, 'Perform for me' and so far they've done that quite successfully.

Who do you read when you're not writing?

I always return to the books of [adventure writer] Sir Henry Rider Haggard, whose stories take place mainly in Africa.

Do you ever think you'd write anything about the Arab world?

The Middle East is fascinating – it goes back to the time of Alexander, right through the Roman occupation, the present and the two World Wars. There's material there for an endless number of books. However, I very much set my sights on writing only about things that I know extremely well.


PROFILE: Wilbur Smith Author

Wilbur Addison Smith was born on January 9, 1933 in Broken Hill, Northern Rhodesia, which is now known as Kabwe, Zambia.

As a baby, he was sick with cerebral malaria for ten days, and his parents were told if he survived, he would be brain damaged. However, he went on to make a full recovery.

He grew up on a cattle ranch and spent his childhood hunting and hiking. His mother gave him novels of escape and excitement, which piqued his interest in fiction; however, his father dissuaded him from pursuing writing.

After studying at Rhodes University in South Africa, Smith became a journalist, but his father's advice to "Get a real job" prompted him to become a tax accountant.

He published his first novel, When the Lion Feeds, in 1964, written while he worked for Salisbury Inland Revenue. The book gained a film deal and its success encouraged him to become a full-time writer.

To date, the best-selling author has published over 30 novels.
Follow Emirates 24|7 on Google News.