Transparency attracts foreign capital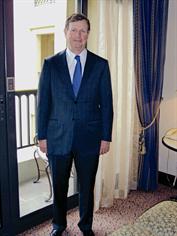 A 'sophisticated' economy like Dubai needs to put in place a more focused legal system to tackle issues like bankruptcy, said Brackett B Denniston III the Senior Vice-President and General Counsel with General Electric (GE). Besides, almost all GCC countries need to beef up their labour laws, he added. Appreciating the anti-corruption stand of regional governments, he pointed out that more steps taken to enhance transparency could help the region attract more foreign capital.

Denniston told Emirates Business that Dubai had grown fast into a financial hub and its legal system needed to keep pace with this growth. He pointed out that legal disputes in the region were lesser as compared to many developed countries which has helped to bring financial investments into the GCC states.

Besides, the setting up of arbitration courts at Dubai International Financial Centre (DIFC) and other financial hubs in the Gulf had led to a more confident business environment, he felt.

GE places the UAE and the GCC high on its list of potential business locations, seeing opportunities in the region's infrastructure, energy and healthcare sectors. The company has had a presence in the region as far back as the 1930s. It has been working in the UAE, Saudi Arabia and Kuwait and has undertaken a range of projects in Lebanon and Jordan.


How do you rate the legal system in Dubai and the region? Is there any advice you would like to proffer to the authorities?

The UAE has done a very good job of building an environment that's conducive to investment. A good investment environment is dependent on good laws and their implementation. People will invest where they feel secure.

The legal system in Dubai is developing to keep pace with its economic growth. There have been a number of good developments here, the arbitration centre at the DIFC being one of them. The verdicts of DIFC's arbitration courts are internationally acceptable. As a business hub, Dubai has a fabulous infrastructure and a well-linked airport.

As far as the larger region is concerned, I think it needs to work on labour legislation. The GCC countries have tackled corruption well but then I believe that stronger laws to prevent corruption and promote transparency could help the region attract a higher flow of foreign capital.

As a company, we are always concerned about the rule of law, the standard of the judiciary and the quality of the legal system in the countries where we operate.

As a company do you need to often resort to arbitration or seek judicial intervention?

No such incidents are rare. The frequency here is lower than what we witness in other parts of the world.

Please explain the way the arbitration system works. What happens if the decision taken in an arbitration is not mutually acceptable to contesting parties?

The possibility of an arbitration comes into play if we have a contractual agreement which includes an arbitration clause. The two contesting parties can choose their panel of arbitrators from specially established arbitral bodies. If the decision of this panel is unacceptable to any party, then they approach the courts. However, parties under a contractual agreement rarely have to approach a court. As a company, we insist on including an arbitration clause even when we close a deal with the government.

As a company GE is deeply involved in energy projects. How do you manage to find work in developing countries with your support for 'cap and trade' policy which basically talks about reducing carbon emissions?

Energy projects have helped to expand our portfolio. As a company policy, we promote renewable and green energy. And many of our energy projects are in developing countries. We bought our wind business from Enron and have grown it ever since. Gas turbines occupy a major share of our business. We also have deep interests in nuclear energy.

Every GCC country has deep interest in healthcare projects. How strong an opportunity does GE, as a major healthcare provider, see here?

GE Healthcare, as a unit of GE, is devoted to healthcare projects. Our Healthy Imagination or Eco-Imagination initiative focuses on lower costing healthcare products and ensuring access. GE Middle East & Africa, headquartered in Dubai Internet City, has been chosen to pilot the Healthy worksite certification, a programme under GE's new, company-wide health initiative.

Site certification can only be earned by meeting certain criteria, one of which is the number of onsite injuries in a year. We are not just a big healthcare provider, we are a healthcare spender too. We have been campaigning against diabetes, smoking and other lifestyle diseases as part of efforts to promote healthcare within our enterprise and beyond.

Cost, access and quality determine the standard of a healthcare service provider. As part of our healthcare solutions, GE recently launched a $250 million (Dh917.5mn) venture fund to support cutting-edge technology. We have recently developed a pocket-sized ultrasound device.


PROFILE: Brackett B Denniston III Senior Vice-President and General Counsel, General Electric

In his present role since 2004, Denniston heads the 1,200-strong GE legal organisation worldwide. He is a member of GE's Corporate Executive Council and GE Capital's Board of Directors and chairs the company's Policy Compliance Review Board. He earlier served as chief legal counsel to Massachusetts Governor William F Weld where he was responsible for judicial selection, litigation, criminal justice issues and legislation. From 1982 to 1986 he served in the US Attorney's Office as Chief of the Major Frauds Unit, where he was responsible for white-collar crime prosecutions.
Keep up with the latest business news from the region with the Emirates Business 24|7 daily newsletter. To subscribe to the newsletter, please click here.
Follow Emirates 24|7 on Google News.