Turkey eyes up to $3bn GCC investments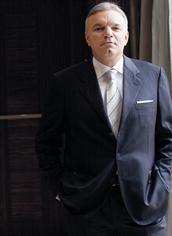 Almost 70 per cent of Turkey's equities are owned by foreign investors. The GCC (Gulf Co-operation Council) has less than a five per cent share of these, holds huge potential, observed Hakan Ferhatoglu, Chairman of Ata Invest, a Turkish investment banking firm. Based at DIFC since 2006, Ata Invest is the first and only Turkish investment banking/capital markets advisory firm in the GCC. Ferhatoglu said investor confidence had started to return and was likely to boost investments from the region. He expects Gulf investors to put $1 billion (Dh11.01bn) to $3bn in various asset categories in Turkey during 2010. "Confidence will be higher in 2010. I expect investments from the Gulf in Turkey to increase to between $1bn and $3bn," he told Emirates Business.


How is Ata Invest promoting investments into Turkey?

We have been pursuing this over the past two decades on several fronts through our offices in Europe, Germany and New York. We conduct road shows to generate awareness and organise meetings between chairmen and CEOs of public companies, between fund managers and strategic investors, and invite select executives from large Turkish corporations to the Gulf. At the same time, we hold meetings with ministers and representatives of high-level government organisations to raise awareness about Turkey. Awareness of the country's strengths in the GCC is not as high as it is in the West. Financial institutions here don't have separate desks for Turkey.

What kind of deal volumes did you record in the past four years?

Compared with our success elsewhere, there is a lot to achieve here. Investments from the GCC and the UAE in particular, account for not more than two per cent of all Foreign Direct Investment into Turkey.

What is the reason for low investment volumes from the GCC?

Private family businesses invest in emerging markets or in Turkey through bank representatives outside the UAE instead of handling investments directly into the country. We are trying to acquaint them with Turkey's economic data so that they start trading or investing in equities directly from here. Financial organisations in the GCC are not very aware of Turkey's corporates, regulations, financial data. We provide information to whoever needs it.

Did you see a decline in investor confidence during 2009?

Yes, investor confidence was hit. Registered investments in the UAE stood at only $6 million, accounting for less than 0.1 per cent of FDI into Turkey. Confidence is returning. Rising oil prices will help. Investors here, mainly financial investors, are much affected by overall confidence level and oil prices. 2010 will see a better world with the US economy rebounding, investment and consumption from China increasing and economies picking up. I expect investments from the GCC into Turkey to go up to between $1bn and $3bn during 2010.

What impact do you expect on investment in 2010?

The mood is positive. A lot depends on how the world recovers from the financial turmoil. All are looking at Chinese consumption patterns and oil patterns. We have our own dynamics. Turkey was growing rapidly but 2009 saw a near-five per cent contraction of the economy. Our banking industry though remains intact. Not a single bank has had problems. Total banking profits were at $20bn in the first nine months. Our capital adequacy ratio is at 18 per cent. We expect corporates to be able to borrow better this year. Only two to three per cent of Turkey's loans were mortgages. The country's mortgage industry is still in its infancy, which means the potential for growth in that segment is huge. Next year, we expect our economy to grow by over five per cent. The trade volume is more than one per cent of world trade on yearly basis and the human resource is well-groomed. We expect very good growth.

What kind of opportunities can GCC investors find in Turkey?

GCC investors should look for greenfield or joint venture projects. Turkey and GCC investors can create regional power houses that can return and invest in the UAE, particularly in logistics, retail, healthcare, telecom, energy or related services. This could provide a new growth story that will benefit both the GCC and Turkey.

Do you see a change in investor confidence when it comes to putting money in the UAE? Which sectors would you prefer investing in?

As the world comes out of crisis, investor confidence towards the UAE is also improving. In the UAE, we are looking at steel, building materials, oil-related manufacturing industries, selective retail and food-related industries.

Will you be taking any special efforts to promote investment from the UAE during 2010?

We have formed an ETF (Exchange traded fund) with Dow Jones. This is the first Shariah-compliant ETF and we plan to list that simultaneously in the UAE and Turkey. The ETF is a good way to invest in a country. We are providing research data to potential investors, and are talking to authorities. We are also working on more than a dozen large deals involving $50m equity in each and targeting between $1bn and $3bn in investment.


PROFILE: Hakan Ferhatoglu Chairman, Ata Invest

Holding overall responsibility for Ata Invest's presence and strategy in the GCC, Ferhatoglu is Chairman of the Finance Committee of Turkey's Foreign Economic Relations Board and Executive Committee Member of the UAE-Turkey Business Council. He has worked with various US financial institutions and was Board Member of Yuksel Holding, a leading conglomerate in contracting, energy and land development in Turkey and the Middle East and North Africa region since 2000. He holds an MBA from Boston University.
Keep up with the latest business news from the region with the Emirates Business 24|7 daily newsletter. To subscribe to the newsletter, please click here.
Follow Emirates 24|7 on Google News.