Unite a brand and its people to ensure future success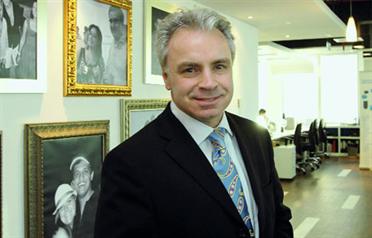 As the worldwide CEO of The Brand Union, Simon Bolton oversaw the company's overhaul, which has helped it double its number of international clients over the past three years. Having worked in advertising for the majority of his career, during which he won two industry Oscars – Cannes Golden Lions – the Briton made the switch to branding in 2006.

In Dubai recently to open its new offices in Knowledge Village, he told Emirates Business how branding can turn a company's fortunes around.


Why is branding so important?

There's never been a more important time for it to be on every CEO's agenda. Integrity and trust are vital and when we decide which hotel to stay in or which product to buy, the brand is a major influence on how we think.

Does the financial crisis make it even more pertinent as companies try to stay ahead of the competition?

What started as financial services issues has widened to such a point that firms in all sectors are going under. One of our biggest clients is Bank of America and we're working with them day in, day out to resolve issues in their brand portfolio. The largest financial services organisation in the world needs to work out how to create a business for the future and branding can help them do this.

How much of your business comes from the Middle East?

The Middle East is very, very important. Last year it represented 12 to 15 per cent of our total business, a lot of which was down to the growth of the region. It's much bigger than the customer base here but as we've seen with the population growth, it's all about ambition.

Does a company have to change its branding depending on the region?

You have to adapt to the needs of the market place and its customers.

We work a lot in Asia and can't run black as a colour, for example, because it signifies death to the Chinese but these rules change as people travel more.

In the Middle East, we have to adapt and be flexible but it's changing. Five years ago it was a naive market but now its driving standards and not accepting sub-optimal ideas any more.

Which companies do you think have the best branding?

We've been working with Vodafone for 12 years and what I like about them is that they have moved from being a highly inquisitive organisation buying every operator on offer in different markets to focussing on global customer service.

Google also has to be up there as it's the brand of the moment and I wonder at what stage it will become a necessary evil.

Apple has done amazing things to have moved from being a naive brand image of Steve Jobs, when pitted next to IBM and Dell, to become a trusted and effective community.

How important are the people behind them?

When it comes to Richard Branson with Virgin or Jobs with Apple, it's amazing to think they are maintaining the reputation of the brand, but we have to think about people as ambassadors because every encounter with someone can change opinion.

You can spend all the money a firm has on putting the right message and image across, but it can all go wrong if employees are not happy and in turn bring down the organisation's reputation. People used to think branding was just a 2D design but its more holistic and companies have to think about the way they are represented.


Simon Bolton CEO of The Brand Union

Simon Bolton joined the world of branding three years ago after a 26-year career in advertising.

The Briton started his working life as a chef but soon realised it wasn't for him and moved on.

He enjoyed great success with FCB and Ogilvy and Mather during which he tempted the world to buy the Kit Kat with his "redefining the break" campaign and Persil Tablets among others. He was CEO of JWT UK and Ireland prior to his current post. Bolton has won various industry awards and lived all over the world, including New York, Delhi, San Francisco Kuala Lumpur and Bangkok before returning to London.

He has a degree in history and philosophy and a diploma in communications.
Follow Emirates 24|7 on Google News.