We go where the audience is and follow the money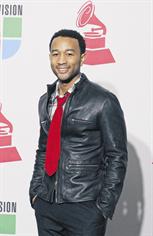 You'd be forgiven for thinking John Legend was timid. His boyish charm mischievously hides a surprisingly forthright personality. Candid and upfront, he minces no words in telling Emirates Business he performs where the money is. His brief career as a management consultant probably sparked this no-nonsense approach to the business of music. As a musician, though, he's been hailed a soul messiah – with some pundits likening him to Lionel Richie. Thousands of fans at Skywards Dubai International Jazz Festival agreed, offering their own renditions for each hit the diminutive American unleashed.


You've had a great start to the year, with a Grammy and then a last-minute performance at the Oscars.

Yeah. The Oscars were a lot of fun. I had a great time there. It's been an exciting year so far. I won a Grammy [for Stay With Me]. It's been a busy year. It's been a good year. We've had a lot of good things happening and I think it's gonna get better, actually.

You were in Dubai as a headliner for Skywards Dubai International Jazz Festival. What does that feel like?

First of all the weather's great. I'm happy to be here when it's winter in New York. It's always good when you get a crowd that likes its music. I'm not a jazz artist, obviously, but I've been influenced by jazz since I was a kid. People who enjoy live music would have enjoyed the show.

How long will your current tour last?

This tour will last 50 days including Europe and Asia. Then I'll take a break and tour more in the summer.

Can you tell us about the impact the current recession has had on you and the music industry in general?

Well, we had a really successful tour in the US just now, so I can't say that it has dramatically affected me. But I know that record labels are losing money and are unable to procure new artists now. Whatever was affecting us before is still affecting us today. It's just a tougher time to make money.

How do you choose your gigs?

We go where the audience is and, frankly, where the money is – where somebody's willing to pay for us to come out. So, I mean, we're willing to come here. It's just a matter of whether there are promoters and sponsors who are willing and able to bring us out.

What's [collaborator and best-selling rapper] Kanye West really like?

He's funny. One of the coolest things about him is that he has a great sense of humour. Creatively, he's one of the most important artists of our time and, I think, he says that a lot. Well people don't like to hear that from him, and they call it arrogance, but it's actually true.

Can we look forward to more collaborations with him?

I hope so. I see no reason why not.

Tell us about your collaboration with Estelle?

We just went into the studio and tried to come up with great ideas. We were working with Will.I.Am on American Boy [which made it to No1 on the UK singles chart] and when I heard the track I just thought of the idea for the chorus. I thought it would be a great idea and it worked.

How do you choose your collaborations?

We get requests and then see if we have the time and interest in it. If I like the artist and the idea then I take it up.

How about artists for your label?

We don't have anyone signed to the label other than Estelle. But anything's possible. If we find great talent, we'll pick them up. We'll work with people that we think will do well globally.

What did it mean to perform at Barack Obama's inauguration?

That was fun. It was obviously a big moment in American history. There was such a great spirit in the atmosphere because everybody felt so good. It's good to perform in that setting. Especially with other artists who felt the same.

Where have your best gigs been?

Johannesburg, Atlanta, Oakland, London and Paris.

What does the future hold for you?

I'm gonna be performing a lot before the year is out. So the main focus is to do great shows. I'm going to be writing soon but it will be a while before the next album is out.


PROFILE: John Legend Singer/Songwriter

Soul singer, songwriter, and pianist John Legend was born John Stephens in Springfield, Ohio. The 30-year-old's debut album, Get Lifted, was released in 2004, winning him three Grammy's including Best New Artist and Best R&B Album. Since then, Legend has released two more albums – Once Again, in 2006 (winner of two Grammy's) and Evolver in 2008. He picked up his sixth Grammy this year (Best R&B Performance by a Duo or Group with Vocals) for Stay With Me (By The Sea) with Al Green. Aged seven, he performed with the church choir. Legend studied English with an emphasis on African-American literature at the University of Pennsylvania. There, he worked with Counterparts, a jazz and pop a cappella group as President and Musical Director. Legend's roommate and University classmate, Devon Harris, aka Devo Springsteen, introduced Legend to his cousin Kanye West, giving birth to a famous working friendship.
Follow Emirates 24|7 on Google News.