We know how to fight in a tight budget situation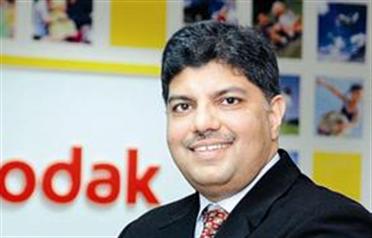 Kodak remains to this day the largest supplier of photographic films in the world, for the amateur, professional and motion picture markets. But revenues from its film business continue to decline as consumers opt to use digital cameras.

About 40 per cent of Kodak's revenue in this region still comes from the business. Its continuous decline means the company has to get more sales from its digital division. And with consumer confidence plunging due to the credit crisis, the job of Arif Khan, Kodak's Area Manager, Near East, gets more challenging by the day.

Khan is nevertheless positive that they will continue to rake growth albeit at "marginal" levels.

"We are hardened fighters in a tough market," he said. "For the past four years, Kodak has gone through restructuring, we've been cutting our costs. So we know how to fight in the market in a tight budget situation even though our competition is spending a lot."


Kodak's fourth-quarter global sales were down 24 per cent compared to the previous year. But what is the case in this region?

We have already completed our annual targets by the end of the third quarter last year. The last quarter, however, turned out to be less than what we expected. The volume for digital cameras doubled. Our traditional [film] business, on the other hand, is declining and you can't do anything about it. The best you can do is to manage that decline well. Overall – including traditional and digital businesses – this office had grown at least 30 per cent in 2008.

How much of your revenue come from the digital camera and the film business?

In this part of the world, about 60 per cent of our revenues now come from our digital business and 40 per cent from traditional. In 2007, the ratio was 52 to 48. The film business in the region is slowing down and down the line, I can see the business will become insignificant. Until now, however, we're not yet seeing that.

Do you foresee the film business becoming extinct?

No, never. There will always be people who will say, "I want my film". What the film can give you as a capture medium is far superior even today to what than the best digital cam can give you. People who are into photography love the medium of the film. Last year, we launched a new film for professionals and the professional photography community went gaga over it. Nobody can really make prediction how low it could to go down. But yes it will hit a plateau down and from there it will just stay at the low level.

How big is Kodak Near East in the total company portfolio?

It's a drop. But it's a healthy business that has been going on for more than 25 years now. And, we have skills sets, which other parts of the world don't have like dealing with distributors. In many other countries, Kodak used to have its own sales people so managing distributors has been the forte of this office.

Kodak has undergone a restructuring programme years before the financial crisis, and by that it means the company has already trimmed down its workforce. And now, while the programme isn't finished yet, Kodak is again downsizing the workforce by another 4,000…

From 2004 until 2008, we had a restructuring programme and Kodak went through that in a very systematic way – we were always ahead on what we say we would do in terms of sales revenue, headcount reduction, and in terms of managing our cost. In those four years, we have restructured ourselves into a very tight unit. Just to give you a heads up, Kodak has been growing double digit every quarter from second quarter of 2007 to second quarter of 2008 then the economic crisis hits us. And that hits everybody not just Kodak. We did struggle after that. If the crisis did not hit us, I think we would have finished our restructuring. That is the reason why we have to let go of 4,000 in 2009. Kodak has also announced cancellations of bonuses for all 2008 performance. It's a normal thing to do like many other companies we have to be prudent.

Considering the region is but a "drop", will it still be affected by job cuts? Would you be cutting your marketing budgets?

Being a global family, yes, but the impact here will be minimal. And yes, we would be cutting down our marketing budgets. It won't be drastic but there will be more rationalisation.

With lesser consumer confidence in the market and lesser marketing budgets to attract these fewer consumers, how do you expect to fare this year?

Kodak is very well placed to weather this crisis. For the last four years Kodak has gone through restructuring, we've been cutting our costs. So we know how to fight in the market in a tight budget situation even though our competition is spending a lot. We are hardened fighters in a tough market. Keeping that in mind, we are not overly ambitious for 2009. Overall, if we gain share for our competition that's the biggest thing that we can do. Now the target to the team is to have 20-25 per cent growth in the digital business in this part of the world. But overall – since the traditional is declining – we expect to have marginal growth.

Where do you rank at the moment and what are your plans to further increase your market share?

The key retailers tell us that we are either number two or three in our digital camera sales. We are not yet the number one but we are aiming for that. Our biggest competitor today is Sony. The second place is usually played between Canon and us. Our strategy is this – to give the customers the best at a great value. You have all the brands here that you can think of in here but always, Kodak is always well priced. For example, a 12-megapixel camera from Kodak has the same price as other brands' 10-megapixel cam. In this environment, people will more be careful at what they spend and they will look for more value for their money.

What's your market outlook?

The trend last year was very good. I expect 2009 to slow down because consumer spending and consumer confidence take a beating. But there will still be growth in the digital part of the business in the Middle East. In this kind of environment, news is mostly negative. As a natural inclination, we tend to focus on so many people losing their jobs. As a businessman, I look at the fact that many people still have their jobs, still receive their salaries and are still buying goods, and there will still be a arket for us.


PROFILE: Arif Khan Kodak's Area Manager for Middle East, North Africa and the French territories

Based in Dubai, Khan is responsible for strategic and operational directives of the Kodak business across Middle East and North Africa and the French territories. He joined Kodak as Marketing Manager in 1993 and since then has been an integral part of business development and significantly contributed to the success of Kodak in the region. Khan has a firm understanding of the business from different vantage points including, marketing, research and business development. He holds a bachelor's degree in chemistry and a diploma in business management. 
Follow Emirates 24|7 on Google News.