We plan to go public in 2011 and list on Nasdaq Dubai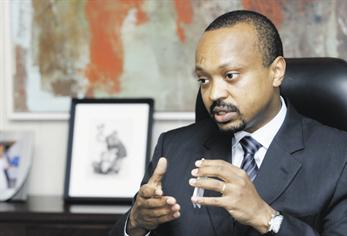 The credit crisis and deepening economic downturn are creating a challenging backdrop for investment banking and private equity operations.

However, firms that push on and keep doing deals in this environment will emerge stronger than others that take a more cautious stance.

Regional investment bank and private equity company Millennium Finance Corporation (MFC) is continuing to do business in the region and other emerging markets. The company has advised on numerous initial public offerings (IPOs) and cross-border mergers and acquisition deals over the past few years.

It aims to expands its reach to Saudi Arabia, India and Nigeria through joint ventures and acquiring licences.

CEO Keba Keinde, in this exclusive interview with Emirates Business, says he expects the economic recovery to begin in the second half of this year.

He aims to capitalise on this recovery by launching four funds worth $500 million (Dh1.8 billion) each and plans to make the company public in 2011.

Do you have any expansion plans?

Yes, we are planning international as well as product expansion. In the first phase we will expand to three countries – Saudi Arabia, India and Nigeria. In the product expansion area, we will launch an MFC asset management platform to focus on listed equities and mutual funds.

We have investment banking and private equity platforms for sectors like telecoms, energy, real estate and financial institutions. We focus on mergers and acquisitions and capital market business. MFC is one of the region's leading players for mergers and acquisitions including all financial institutions as well as capital markets. It is high time now to start international expansion because we have been doing very well over the past three years. This expansion will strengthen our position in our core markets – the Middle East, Asia and Africa. In the Middle East, we have to go into the Saudi market because it is the largest market in the Gulf. In Asia, we'll expand to India for a number of reasons – the ties that exist between the two countries, the huge potential the country offers and because we already have substantial private equity investment in the country so it would be very easy for us to set up an office there. Nigeria is one of the largest economies in sub-Saharan Africa. We have done a number of transactions and M&As there. In fact, we are the book manager for Nigeria's largest IPO.

We have a large number of major corporate clients who are going to India for business and we have leading Indian clients like Tata who are going global. So we will be focusing on cross-border transactions and mergers and acquisitions. We will have a small presence in India but we are going for full-fledged banking operations in Saudi Arabia because it is a large market and competition is relatively weak. And there is a room for a full-fledged banking business. We will be offering services in asset and capital management and mergers and acquisitions.

Have you applied for a banking licence in Saudi Arabia?

We are considering two options. The first is to submit an application for a licence with the regulatory authority and the second is to acquire an existing licence. We have studied the regulations and contacted the regulatory authority to discover the requirements for obtaining a licence. In Saudi Arabia, some companies have been issued licences but have not developed so we are considering acquiring one of those licences. We aim to start operations in the second half of this year. We will invest a minimum of SAR50 million (Dh49m) as capital to start the bank.

What are your profit growth expectations for this year?

Our revenues grew by 50 per cent last year and profits jumped by 10-fold. The main contributors to revenue were cross-border strategic mergers and acquisition transactions. We can say that roughly 20 to 25 per cent of MFC's revenues come from private equity and investment banking. In 2009, we expect the same top-line revenue growth. We are targeting another 60 per cent growth and are confident of achieving this because we see private equity business picking up.

Did MFC have any exposure to the property or stock markets?

No, we did not have any exposure at all. Our balancesheet was not exposed to the US, European or regional real estate markets. However, there is always an impact from a crisis when it is global. The impact on us has been relatively minimal. The crisis created opportunities which we were able to seize. Our focus has always been on the Middle East because we believe there should be a strong advisory bank to cater to large corporations in the region because many of these financial institutions have been going global to compete with larger European and US rivals.

Is MFC currently advising on M&As?

We are advising a number of strategic clients. We are engaged with clients involved in nearly 20 cross-border transactions in the Middle East, Asia and Africa. We have previously advised, for instance, the Iran government on the sale of a mobile licence; Zain Telecom on a number of licence acquisitions in Africa and Batelco on its international expansion.

Are you planning to launch funds?

Yes, we are working on four funds for clean technology, natural resources, real estate and sub-Saharan Africa. The size of each fund will average $500m. We will take into consideration the market conditions before launching the fund. I think the second half will be more favourable than the first half of 2009. We always need funding for expansion, though funding for substantial product expansion costs will mainly come from internal resources. We do not rule out having more partners, not to boost capital, but to bring in international expertise. Whichever market we go into we will have local partners.

Do you plan to go public?

Yes. We intend to launch an IPO in the next two years and aim to list on the Nasdaq Dubai, but it depends on the market conditions. We have not yet decided on the amount we plan to raise. With regard to dual listing, we will see if a substantial part of our revenues is coming from another country – if so we would consider that option too.

Do you see IPO activity coming to a halt this year?

I think we will see IPO activity picking up in the second half of the year in the region as some of the firms will be tapping the stock market. We view this as temporary crisis.

When do you see the markets beginning to recover?

If you look at the capital market, financial advisors are very hesitant to lend funds because there are a number of question marks, particularly over the transparency of listed companies. I do not foresee the market turning around before the second half of this year in our region, but globally it is going to take a bit longer. The region has real inherent growth and strong liquidity backed by high long-term oil prices. We still see strategic investors doing cross-border mergers and acquisitions, so I believe the recovery will begin in the second half of this year.



PROFILE: Keba Keinde, CEO Millennium Finance Corporation
Keinde was previously Managing Director, Head of the Middle East, Africa, Turkey and Iran, at BNP Paribas for four-and-a-half years. Prior to that, he spent four years at the International Finance Corporation (World Bank Group) in Washington, where he was in charge of privatisation transactions in Africa.

He also worked for four years at Lehman Brothers in New York and London and spent three years at IBM France.

He has advised numerous governments and international corporations including DP World, Mittal, MTC/Celtel, the Savola Group, etisalat and DIB. The projects he worked on included M&A, privatisations and private equity and IPO transactions in various sectors, most notably telecoms, public utilities and metals and mining in emerging markets.

He has an engineering degree from the French school, the Ecole Nationale Supérieure des Télécommunications, and an MBA, with majors in economics and finance, from the Massachusetts Institute of Technology, Boston.
Follow Emirates 24|7 on Google News.