We reported growth even as the market shrank last year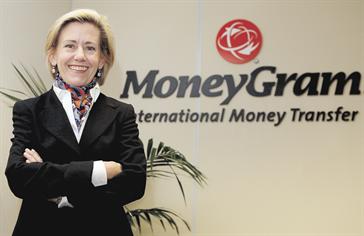 MoneyGram International experienced the whiplash of its risky investments much earlier than other companies.

The world's second-largest money transfer firm marked down its investment portfolio, including assets backed by sub-prime mortgages, by $860 million (Dh3.16 billion) in January 2008. Upon announcement, its stocks plunged nearly 50 per cent in a single day, erasing more than half a billion dollars of shareholder value. Two months later, it reported a total of $1.2bn impairments, further pulling the shares down.

To fill a capital hole brought on by failed investments, it sold a controlling stake to Thomas H Lee Partners and Goldman Sachs in a deal that values MoneyGram at a fraction of its value months before. A little less than two years thereafter, it reported $875.5m revenues in the first nine months of fiscal year 2009, 44 per cent higher than the same period in 2008.

"We had growth while the industry shrank," said Pamela H Patsley, Executive Chairman and Chief Executive Officer of MoneyGram International, in an exclusive interview with Emirates Business. Patsley, who made her first trip to Dubai this year, was appointed Executive Chairman in January 2009.

According to World Bank's most recent forecast, remittance flows to developing countries would have dropped by 6.1 per cent in 2009, a sharp contrast to the 15 per cent growth seen in 2008 ($328bn) over 2007 ($285bn).

Looking forward, Patsley said MoneyGram is eyeing an "accelerated growth" by expanding its presence worldwide, and while doing so continues to work on balancing the company's financials and improve its credit ratings. "Yes, we are still a leveraged company," she said. "I spent quite a bit of a time in December giving rating agencies an update. We're going to be visiting them again after we release our fourth-quarter 2009 numbers on February 4… You'll see us in 2010 a very energised company."


MoneyGram has had tough years and we saw changes in the management, quite more often than what is usual. Considering the growth of a company is partly dependent on the consistency of who runs it, can we expect the current people to stay on board for longer term?

In business, particularly in a public company, it's hard to give a definitive answer. But I would answer in this way – it is not untypical to see a lot of management changes given what happened back in 2007 and 2008 and the need to go through the leverage recap that we did. One might argue that some of these changes could have taken place in 2008 or early 2009, but I would say we continue to be stronger with each change we make.

But can we expect at least Pamela Patsley to stay on for the next few years?

Oh yes, I have made a very firm commitment, absolutely, for at least four years, which is towards the end of 2013.

What are your plans for 2010?

Our plans are to accelerate our growth. I just would like to emphasise that in 2009, while the market shrank we had growth and I would look very much to accelerate that growth in 2010. I look to continue and improve our operations, elevating our focus on the consumers, which are our customers and agent partnerships.

So is taking over Western Union on the cards?

Western Union is much larger than we are. It's not a zero sum game in my mind. It's not for us to do well and for them to do poorly or them to do well and us to do poorly. There is so much opportunity in this market and we are the only two global players and together, we are only 25 or 30 per cent of the global remittance market. So there's a lot of wide space for both of us.

Before we dwell more on opportunities, let us first talk about investments. Have we seen the worst in the investment portfolio of MoneyGram?

Oh yes. All that was cleaned up with the leverage recap so we have a very solid and sound balance sheet. Basically everything was written down or written off.

Moving forward to your debt obligations, you were able to pre-pay $40m last month, which included all your other payments, bringing down your total debt by 19 per cent.

In 2009, we paid $187m on our debt. We generate a lot of cash in our business so it is a combination of managing that cash in excess of service payment obligations very prudently and very tightly. As a result we continue to perform better and show growth in our core business.

You're still in the deleveraging process?

Yes we are still a leveraged company. I spent quite a bit of a time in December giving rating agencies an update. We're going to be visiting them again after we release our Q4 2009 numbers in the first week of February. We're focused on continuing to improve our credit ratings. At the core, the company is running really well. You'll see us in 2010 a very energised company.

When do you plan to pay off all debts?

We have not given our projection on that.

Since almost everyone is deleveraging, not only MoneyGram, don't you think the growth that we'll be seeing will be much slower?

As evidenced in 2009, we paid $187m on our debt just by better balance-sheet management. We had growth despite a shrinking market. The two are not necessarily counter or mutually exclusive. I would continue to see us focus on improving our balance sheet and accelerate the growth.

What kind of investments are you looking at right now?

It's really staying very close to the core, that is to facilitate money transfer and global remittance. In certain markets we are also participating progressively in the bill pay. MoneyGram has about 4.5 or five per cent market share in the global remittance market. So we'll continue to build more regional teams, focusing on the high growth markets and the opportunities in our core business. We're not going to go far afield.

Have you got a target market share to achieve?

Not that we have disclosed. But with five per cent, we are the number two player. There's a big delta between number one and number two, but equally there's a very big delta between number two and whoever you can find for number three. There really isn't a truly global player so our business is really fragmented.

What you've mentioned are primarily investments in your operations. What about your investment portfolio – are you going to be more conservative?

It would be hard for us to be more conservative than we are today. After the leverage recap we have essentially taken the risks out of MoneyGram. We couldn't describe a scenario how more conservative our approach is today. For us, there is still a huge number of people who moved outside their home country for an opportunity to do better and provide for their family. That is an addressable market for us as well as the emergency cash transfer. In the Middle East, there are about 20 million expatriate workers and in the GCC there are about 16 million and they send money home. We want to have more than a fair share of that market.

How big are the opportunities here and how does the Middle East play in your global agenda?

Very significantly. We are just beginning to scratch the surface of the opportunities broadly across this region – which are great presence, tremendous partnership with our agents in the region, continuing to enhance our brand awareness, and continuing to drive the best product through our network product to our consumers who want to move money around the world.

How big is the Middle East market?

Today, it is an important and a growing part of our business, but relative to our whole portfolio it is below what it should be vis-à-vis what the market size is. We've really just begun. We've been in the region for a number of years with some significant partners, but the growth focus is continuing to build the team and presence here – these are some newer initiatives for us.

Currently which is the largest market and which is the fastest-growing market?

The largest market is the United States for the industry, not just for MoneyGram. The US is the biggest send country. The second-largest country, in terms of sending money, is Saudi Arabia. The third largest country in terms of the number of transactions is Russia. Saudi and Russia are both tremendous opportunities and the attendant countries that have receive partnerships with them.

How many partner agents do you have here?

A little under 60. We have 186,000 agent locations and that continues to grow.

Any target growth?

We have not given projections. Without giving a specific timing to it, I would love to see us get to double-digit transaction growth. Knocked down after that will be double-digit revenue growth and we'll continue to move that 4.5 or five per cent market share up.

Do you plan to get that growth from your core business or to expand or diversify to other business as well?

There is tremendous opportunity just staying very focused on the core. This includes product expansions so we're doing some mobile money transfer pilots and mobile money transfer agreements with Smart in the Philippines, with Italian Post in Italy… There are a number of creative extension initiatives like prepay card. Basically, any way that someone can send money and receive money from simply cash-to-cash. Those are the kinds of things you'll see us focused on.

When shall we see this kind of vertical – such as the mobile money transfer – here in the region?

You've seen some of the press releases that we've announced. I'm not trying to be cagey, but as a public company we're not giving guidance, we're not really giving projections.

These things have been happening worldwide already.

We haven't really said out to ourselves that we have to be the first adopter. In some cases, close second or close follower could be a more efficient path, but not to say that sometimes we wouldn't be first. It's really again being responsive to our agents and consumer partners on what works best.

What are the industry trends that we can expect this year?

The expansion on how one can send money and how one can receive money from strictly cash-to-cash business. We love cash-to-cash business, don't get me wrong, that's going to remain a significant part of our business. It just adds growth opportunities on both sides – whether it's cash-to-account, account-to-cash, cash-to-phone… You figure out the permutations and combinations – that's an exacting trend for us.

Is the market here unique in any way?

The emergency user of our service is fairly similar across the globe. Then you have the immigrant workers and those who use our service on a more routine basis for basic needs. At a very core level that doesn't change… Where we see difference is in the average amount sent, the frequency and that may somewhat be cultural. On one hand that's kind of very similar by category of our customer and on the other hand it's going to flex for simply cultural reasons. Overall the world, we saw average amounts sent decline not by huge amounts but by a little bit so I think that speaks a little bit about the global financial calamity.

You are in the Middle East at the beginning of the year. Does it mean it is strategically important for you?

It does. That is a good conclusion to draw. By me being here, that means what we're doing in the region is very significant for the future of MoneyGram. In respect to all the colleagues of MoneyGram, that does not mean that we're disinterested in what's happening in the UK or Italy or Romania or Moscow or the CIS. We're equally interested to all of them.


PROFILE: Pamela H Patsley Executive Chairman and CEO, MoneyGram International

Patsley, 52, has been the Executive Chairman of MoneyGram since January 2009. She worked with private equity firms to evaluate payment services business opportunities from January 2008 to January 2009.

She was the Senior Executive Vice-President of First Data Corporation, a provider of electronic commerce and payment solutions, from 2000 to 2007 and President of First Data International, an electronic payments processor, from 2002 to 2007.

Prior to joining First Data, Patsley was the President and Chief Executive Officer of Paymentech, a payment processor, from 1991 to 2000.

Effective September 1, 2009, the board appointed Patsley as the CEO of the corporation.

Patsley is also a Director of Molson Coors Brewing Company, Texas Instruments, a semiconductor manufacturer, and Dr Pepper Snapple Group, a beverage manufacturer.
Keep up with the latest business news from the region with the Emirates Business 24|7 daily newsletter. To subscribe to the newsletter, please click here.
Follow Emirates 24|7 on Google News.