'A devastating blow'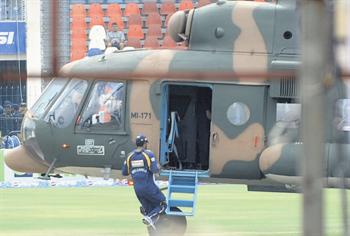 A fatal attack similar to that which took place in Lahore this week has been feared for a "long time now" by the Pakistani public, says Mudassar Nazar, a Test cricketer and former coach of the troubled nation.

Masked gunmen opened fire on the Sri Lanka team bus on Tuesday morning as it travelled towards the Gaddafi Stadium in Lahore where the visitors were due to contend the second Test against the host nation.

The attack left seven Sri Lankan cricketers hospitalised and killed six security personnel as well as two civilians. Nazar, who represented his country in 76 Tests and went on to coach them on two separate occasions, is now an instructor at the Dubai-based ICC Global Cricket Academy.

Speaking exclusively to Emirates Business, he said: "This is the last thing anybody would have wished for and I'm just glad in a way that none of the Sri Lankan players were seriously injured.

"This has been a fear for cricket in Pakistan for a long time. You always think that it might happen; these guys who carried out these attacks, they have no rules and they do whatever."

Pakistan Cricket Board (PCB) officials had always maintained the sport is separate from politics and the country is safe for visiting teams. Such events as that of Tuesday, says Nazar, have totally undermined the positive work the PCB has done.

"The biggest impact will be that the PCB will find it very hard to invite people to play cricket there," he added.

"It will be very hard for them to convince any team that it is a safe environment, which really is a devastating blow for the PCB and for cricket in Pakistan."

When asked how long it might be before Pakistan is able to host another international Test series, Nazar replied: "I wish I could tell you. Three months? Six months? I have no idea."

The 52-year-old is confident, however, that his country can recover from the events eventually and praised Sri Lanka – who he insists were likely to have simply been in the wrong place at the wrong time – for their "solidarity".

"Pakistan players are very resilient," he said. "You've seen this thing before; whatever is thrown at them they bounce back.

"The Sri Lanka team is very brave also. They have always shown a lot of solidarity to Pakistan and stood shoulder to shoulder with them. They are fighting their own war and should be praised for what they have done by playing in Pakistan. Sri Lanka was not the target – any team would have been a target."

Nazar says he now hopes Pakistan, who are expected to play Australia in the UAE later this year, can regain focus following news that their tour of Bangladesh has been postponed. "I hope they come to Dubai Sports City because the best thing they can do now is focus on cricket and get back out and play."
Follow Emirates 24|7 on Google News.