Fighting against the odds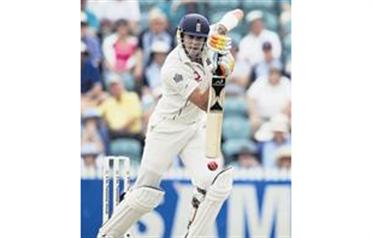 In the past month, the England cricket team have lost their captain, coach and their dressing room has been thrown into disarray. So it was a rather shell-shocked bunch of players that left for the Caribbean on Wednesday for the start of a 10-week tour.

Former captain Kevin Pietersen's disagreement with coach Peter Moores led to the Englishman being fired, while the skipper was "forced" to step down by the the English Cricket Board amid reports that his players did not support him.

Opening batsman Andrew Strauss has subsequently been handed the captaincy and the job of unifying the dressing room on the tour. He also needs to make sure that England's best batsman, Pietersen, continues to score runs, despite his demotion.

The whole situation has been frustrating for the English public and former internationals alike, who were of the opinion that their team was in a great position to win the Ashes against Australia in the summer.

One such former player is Devon Malcolm, who was in Dubai this week to play a game for charity organisation the Lords Taverners against an Emirates airline team. The disappointed fast-bowler said England needed to beat the West Indies in the three Test series to "regain their confidence" in time for the Ashes.

"I thought KP came in and did well against South Africa and we all said, 'Okay, not everything is going to be as smooth sailing as that, but well done'," commented the 48-year old, who played 40 Tests for England.

"Yes, India [who won 1-0] didn't go well, but I thought the guys would go to the Caribbean, do well, and with Australia coming in the summer, England had a great chance to take them on and beat them. Mainly, because it's difficult for Australia to replace a bowler like Shane Warne, like Glenn McGrath and even Matthew Hayden who has left now.

"Australia are primed to be beaten at the moment, so I thought England were going to be in a strong position to win the Ashes, but now all these controversies have gone and really upset the balance.

"Still, you know, we have a chance. It all depends on how quick we get our head around things, go to the Caribbean and get back on the treadmill. We have to beat the West Indies though, to build up momentum and bring confidence into the game."

The person that Malcolm identifies as key for England in the Ashes is fast-bowler Steve Harmison, who ironically was a player that Pietersen recalled to the side after being appointed captain in August.

"Talking about individual players, we need Harmison back firing to give Australia a good beating," said the seamer, who took more than a 1,000 first-class wickets.

"The little bit of psychological advantage we had has slipped back to Australia, but after their performance against South Africa [the Proteas won the Test series 2-1], the Australians are probably thinking, "Oh well, we're not as strong as we used to be."

"So England must get back in there, beat the West Indies and see what happens in the summer.

"Still we have a good chance and I think we can put up a good fight."


Making a business from the game 

Since retiring from the first-class game in 2003, Devon Malcolm has remained heavily involved in the sport as both an ambassador for the Professional Cricketer's Association and a bowling coach in county cricket.

He is also a partner in a company that makes cricket products "I manufacture equipment like roll-on covers, mobile practice nets, non-turf wickets – anything to do with cricket – and I supply schools and clubs not only in England, but worldwide. However, the 'Malcolm-brand' is yet to arrive on the UAE shores.

"We have a few patented products, but I have not yet supplied anyone here – we are working on it. When Sports City finishes I'm looking around here and in Abu Dhabi to supply some stuff."
Follow Emirates 24|7 on Google News.