Becks needs Italian job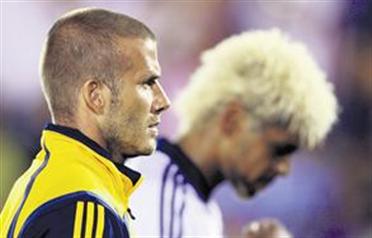 While David Beckham's lawyers consult LA Galaxy regarding a permanent move to AC Milan, Abel Xavier, a former team-mate in the US, believes the Serie A giants give their new recruit the perfect platform to prolong his international career.

"I cannot go through his mind, but I'm very glad he went to Italy," says Xavier, who joined the MLS side two months before Beckham landed on American shores amid heavy hoopla. "I believe, and he has proved already, he still belongs to highly competitive football because he can still produce in the next few years."

Beckham has justified Milan's decision to loan the star from his Californian side. After joining the Italians at a winter training camp in Dubai, the former Manchester United and Real Madrid midfielder has scored twice and drew praise for his teamwork and application.

His performances have inspired so much that Milan, under the guidance of general manager Adriano Galliani, have asked their legal team to investigate the possibility of extending Beckham's stay to June at least. Galliani has admitted a more lasting agreement is preferred.

Xavier isn't surprised Beckham has made an impression on his current company and cites the motivation of representing England as reason for his sparkling performances at the San Siro.

The pair spent twelve months together in Los Angeles, where their relationship grew on and off the pitch. The Portuguese defender always knew Galaxy's No23 had designs of breaking his country's record to become the most-capped outfield player in English history. "I am his friend, I admire him, and at Galaxy we talked about things," says Xavier. "We come from the same environment. We played against each other in England – he for United and me with Liverpool – and when he was England captain and I played for Portugal.

"I wish he can get back into the national team and do what he does, which is be the best. It's obvious that playing for your country is a question of pride and I'm very glad he now has the opportunity to show he never lost that quality.

"Beckham is a unique player and I'm positive he will represent England and shine for them again."
Follow Emirates 24|7 on Google News.