Becks praying for Milan stay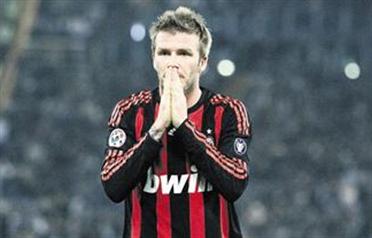 Even after his Major League Soccer deadline passed, David Beckham's on-off move continues to make the headlines. The LA Galaxy star, currently on loan at AC Milan, was tipped to make his stay permanent last Friday, but the two clubs could not come to an agreement.

Beckham responded by confirming this week he would still honour his contract if Galaxy demanded it. However, he was quick to add he'd prefer a stay in Italy's fashion capital.

It makes perfect sense. Mrs Beckham is currently lighting up the catwalk with her own label and can no doubt extend relations with the fashion houses of Armani and Versace. Her husband, a model for the former, could get some extra work too.

Not that he needs it. Becks is once again living up to his 'Golden Balls' tag as he has helped Milan up to third place in Serie A with two goals and a trio of assists. He is proving there is still life left in the old dog yet.

A calf strain in Sunday's crucial encounter against city rivals Inter Milan at the San Siro had his temporary employers reaching for their rosemary beads in hope of a rapid recovery. Not, though, because Beckham shirt sales would drop if he slipped from the starting line-up. But because he has, as Kaka aptly put it on Tuesday, become "fundamental" to the team on the pitch.

When the 33-year-old arrived in Milan two months ago, the Italian media were keen to deride the move as a crass marketing ploy to build on Brand Beckham.

The same accusations were levelled at Real Madrid when the Spanish giants paid Manchester United £24.5 million (Dh127.4m) for their most marketable midfielder in the summer of 2003.

His new team-mates initially implied similarly dark forces were at work in Italy, Rene Gattuso finding it "strange" the club had reached out for a player who "cannot be my substitute".

But, just like in Madrid, Beckham has become an integral part of the side, transforming all scepticism with his praiseworthy passion and commitment.

So he deserves to cancel his Californian contract. Adriano Galliani, Milan's chief executive, expects a final decision to be made today as the Italian club have reportedly sent representatives to Los Angeles to thrash out a deal.

Despite there being a "bit of distance" between the two parties, compensation could cost in the region of £10m, double the figure the Rossoneri are believed to have offered on deadline day.

Becks still commands copious column inches, but at least it's for the right reasons.


Dubai dropouts

The Dubai Tennis Championships was hit with a double blow this week as Roger Federer confirmed he won't be competing in the 2009 tournament, which begins on Sunday.

The Swiss star is nursing a troublesome back injury and has decided to pull out to concentrate on getting himself fit for the long season ahead.

The decision means the Championships could be without the top two players in the world, as Rafael Nadal's persistent knee injury forced him to miss this week's ATP Open 13 in Marseille. The Spaniard's place at next week's competition in the emirate has not yet been guaranteed.
Follow Emirates 24|7 on Google News.