Better the red devil you know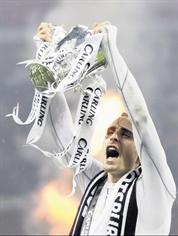 "Dee-mee-tar Berba-tohv! Dee-mee-tar Berba-tohv!"

The cheers and chants reverberated around Wembley Stadium as Tottenham's timorous talisman provided a rare glimpse of emotion.

It was February 24, 2008 and the Bulgarian had just smashed a penalty past the helpless Chelsea keeper Petr Cech in the Carling Cup final, drawing the scores level at 1-1 and edging his side closer to silverware.

His face as he let out a blood-vessel-bursting cry of joy seared itself into the success-starved memories of Spurs fans around the globe.

Tomorrow Berbatov is likely to line up alongside Tottenham at Wembley once more. But this time he is ready to break those same Lilywhite fans' hearts.

Berbatov has gone from Spurs God to Red Devil in little more than 12 months. The 28-year-old, who joined Manchester United last summer for £30.75 million (Dh159m), will need to be stopped – so long as he is selected by Sir Alex Ferguson – if his old club have any hopes of being the first side to retain the trophy since Nottingham Forest in 1990.

But there are few teams in a better position to render Berba bootless.

Having had the brilliant Bulgarian on their books for two seasons, Tottenham should be aware of how to stifle the striker.

Of course, knowing how to stop him and actually doing so are two entirely different matters – especially when the defence set with the task has conceded 35 goals in 21 matches away from White Hart Lane so far this season.

But everybody enrolled in the white end of North London understands only too well the importance of tomorrow's tie: If Spurs lose, it is adios Europe and, more than likely, au revoir to a host of big money stars.

If they win, they can focus fully on fighting relegation knowing they have secured a lucrative place in next season's revamped Uefa Cup, to be known as the Europa League from 2009-10. Not that Spurs coach Harry Redknapp is overly interested in retaining European football.

Having heard him speak before this week's Uefa Cup exit at the hands of Shakhtar Donetsk – where he rested a host of first-team players ahead of tomorrow's clash – winning against Sir Alex Ferguson's men is all about lifting silverware and nothing about qualifying for Europe.

"Sunday is just about winning the trophy and beating United. If there is no Europe, I'm not bothered," said Redknapp. "I want to win the Carling Cup and I want to stay in the Premier League – you have to prioritise."

Ferguson has his own priorities. With a trip to Newcastle in the league on Wednesday, followed by an FA Cup tie at Fulham and a second-leg Champions League bout with Inter Milan, the Scot's line-up is unlikely to resemble the team that made the trip to the San Siro on Tuesday.

Berbatov however, has a history at Wembley, and will be keen to add to it.
Follow Emirates 24|7 on Google News.