Deadly young guns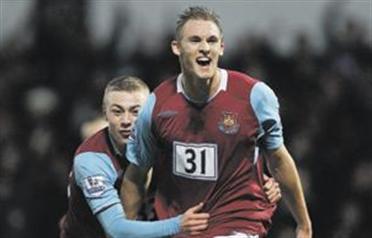 The sight of Jack Collison wheeling away in delight after plundering the winning goal against Manchester City on Sunday will have given West Ham supporters considerable cheer.

The 20-year-old is a product of the club's celebrated youth academy and, alongside Freddie Sears, James Tomkins and Josh Payne, proves the Premier League should perhaps focus its attention more on homegrown talent, rather than accommodating international stars.

Tony Cottee, who played more than 300 games for the club, came through the ranks at Upton Park to make his debut at 18, and became a firm fans' favourite when he swapped his place in the West Stand for a role on the pitch. The old Hammers' hero now salutes the new.

"As much as the fans love a big name signing, the ones they bring through the youth set-up and nurture, such as Jack Collison, Freddie Sears and James Tomkins, probably give even more pleasure," says Cottee, who is a regular pundit on Showtime.

"The fans associate with someone like Sears, a local lad from Hornechurch. They don't if you're coming from Real Madrid, earning thousands of pounds for a club you know nothing about. Manchester City fans would be excited to see Robinho there, but they'd be maybe just as happy that Shaun Wright-Phillips came back.

"And I hope the tradition of blooding youngsters remains at West Ham."

Indeed, the East Londoners have a long history in developing quality from within. In 1999, they boasted a side packed with some of the brightest English prospects in the Premier League.

Rio Ferdinand and Michael Carrick developed so much that their houses are now adorned with Premier League and Champions League winners' medals, while Frank Lampard and Joe Cole became integral components to the Chelsea machine that recently dominated English football under Jose Mourinho.

Trevor Sinclair, at Upton Park when the quartet established themselves as key members of the team, admits they were always destined for greatness.

"It was obvious they were going to be special talents," he says. "It was a pleasure to be around them and watch them improve week-in, week-out. And I'm just as excited about them now as I was then.

"Michael's really come to the fore at Manchester United recently and is indispensable in their midfield, and I think Rio will become the most capped English player of all time. He's gone on to so many titles and just gets better and better.

"At Chelsea, you've got Joe – whose unbelievable skills speak for themselves – and Frank is now the one player that they can't seem to do without at Stamford Bridge.

"He proved he's his own man after being booed at West Ham, went off to Chelsea with a big price tag at the time, yet it's nothing when you think what a fantastic servant he's been for the club. I'm so pleased all the players have gone on to do great things and it shows how important developing young talent is."

It's a point the Premier League should pay particular heed to. In an age when top clubs are spending increasingly large sums of money, more international players are being brought into the game, often at the expense of homegrown players.

At Manchester City, Michael Johnson received weighty recognition for his endeavours last season, but has been confined to the sidelines by expensive foreign signings Nigel De Jong and Vincent Kompany, now deployed in midfield by Mark Hughes.

Meanwhile, Daniel Sturridge, who scored in the final of City's triumphant FA Youth Cup campaign less a year ago, has found it just as difficult to dislodge Craig Bellamy and Robinho from the manager's attack.

"People say money's ruining the game, but it's been the case for the past 10 to 15 years," explains Sinclair, who lives in Dubai. "Money fired Blackburn to the Premier League title [in 1995], Manchester United have spent a lot of money to get where they are, Rafa Benitez has apparently paid £300 million (Dh1.55bn) to make Liverpool contenders and Chelsea have been backed by [Roman] Abramovich's billions. "And now City can bring in players like Robinho. But it's crucial to keep their best players who were there already: Joe Hart and Stephen Ireland, and the younger lads like Micah Richards and Daniel Sturridge. People like Johnson might become surplus to requirements, which is sad, but it's a lot worse when they've been displaced by average international players coming in. Because these players are such exceptional quality, you have to just accept it."
Follow Emirates 24|7 on Google News.