Getting set to bowl 'em over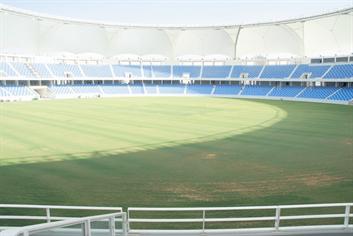 As the Dubai Sports City cricket stadium nears completion, the big question on the minds of fans is: whom can they expect to watch playing at the new venue?

Last week, Pakistan Cricket Board chairman Ijaz Butt revealed that his team would be playing five One Day Internationals against Australia in Dubai and Abu Dhabi in April and May. But Dubai Sports City (DSC) have not yet made an official announcement.

Macky Dudhia, the General Manager of Sports Business at DSC, has said they are discussing with the best sides to play here regularly throughout the year.

"Dubai Sports City is getting close to hosting the first international cricket tournament to be staged in the emirate," said Dudhia.

"The stadium will be ready in the next few months, and we are in high-level discussions with international cricket bodies, English Counties, State and Provincial teams to bring some of the best players to Dubai to compete at the new venue.

"There are many national cricket governing bodies that have expressed an interest in bringing their teams to play here, but this is all subject to calendar opportunities within the ICC Future Tours Programme."

The stadium, which seats 25,000 spectators, features many unique facilities, including a "ring of fire" lighting system – more than 350 floodlights have been attached to the rim of the roof. Thus, day-night matches can be played in shadowless conditions, previously unseen at cricket grounds.

The players' changing rooms at the new ground consists of massage facilities, dining rooms, indoor and outdoor viewing areas and a plunge pool. The spectators have not been forgotten either: Each seat is protected from the sun by the shade roof and there are more than 40 hospitality suites with a VIP lounge available.

Dudhia is confident the stadium will become one of the most attractive venues in the world in a short space of time.

"Due to Dubai's geographical location we are able to offer an excellent environment for international teams from around the world – including Test-playing nations.

"We believe the cricket stadium will become one of the most recognised grounds in the world, playing host to quality tournaments and international matches in the future.

"It will also be one of the most modern grounds to watch the game and will have its own unique signature and special memorable atmosphere."

Aside from the main stadium, Dubai Sports City will also have two pitches for local teams to play their matches, a pleasing aspect for the UAE's newly appointed cricket coach, Colin Wells.

He said: "Any nation in any sport relies on the facilities available. This will result in more people getting involved in the game."
Follow Emirates 24|7 on Google News.