Hughes should not be rushed at City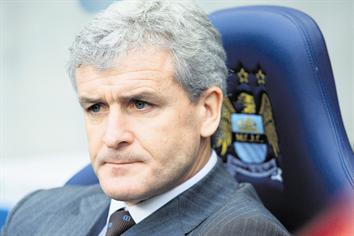 Having spent much of his international career working in tandem with Mark Hughes, Ian Rush is well placed to offer his thoughts on the Manchester City manager. His old Welsh strike partner has endured a frustrating first season in charge of the club, as the pressure of Abu Dhabi billions has increased expectation at Eastlands. The results, however, have not mirrored the optimism.

City currently prop up the top half of the Premier League table, lying in tenth position when the new owners were publicly pining for Champions League qualification after purchasing the club on transfer deadline day last August.

'Marquee' signings were mooted, to add to the superstar flavour that accompanied Robinho's record-breaking move from Real Madrid. Cristiano Ronaldo, Fernando Torres, Lionel Messi and Kaka were all connected to the club in January, but City had to content themselves with the less laudable assets of Wayne Bridge, Nigel De Jong and Craig Bellamy. It alluded more to boxing than box office.

Hughes' input in prospective signings has also been questioned. With coffers swelling he would, of course, strive to sign the game's leading lights, but his employers reportedly chose the names, wanting dynamism for their dirham. The pursuit of AC Milan's Kaka, voted best footballer on the planet only a year ago, was a case in point.

And while Rush, who formed a potent partnership with Hughes for Wales in the 1980s and early 1990s, agrees any manager would love to sign such players, he admits his former international team-mate should have free reign when it comes to the transfer market.

"Most clubs would want the players that have been mentioned because it's much easier working with the better players," begins Rush, in Dubai this week as a guest on Showtime's Premier League coverage. "And when somebody puts a lot of money into the club it's only natural they'll want a say in what goes on. But I think Mark should be left to manage.

"He must have a say in who he's going to sign. City should give him a budget and then leave it down to him how he spends it.

"And if the results don't follow then you can blame the manager. If he's getting people in who aren't his signings, it's more difficult to create a good environment."

That environment has been questioned lately. New Year defeats to Nottingham Forest, Stoke and Portsmouth were exacerbated by rumours of a Manchester mutiny, with some of Hughes' foreign legion apparently unhappy at being left out of the team.

Leading the revolt were Brazilian buddies Elano and Jo – the latter has since moved to Everton in a loan deal – but the team's marked improvement in the 1-1 draw against Liverpool last Sunday conveyed a cohesion in the camp.

Hughes, an ardent attacker during his playing career, spent time outside England in the late 1980s where he experienced different fortunes in the Spanish and German leagues. His season at Barcelona – bought by Terry Venables as a foil for Gary Lineker – was a disappointing one, yet the Welshman rediscovered his form in a season-long loan at the Bundesliga's Bayern Munich.

Returning in time to witness the dawn of the multicultural milieux the new, all-encompassing Premier League encouraged, Hughes would have further developed his understanding of how to handle a new breed of footballer.

Especially so at Chelsea, where Ruud Gullit was moulding a team full of continental stars that included Frank LeBoeuf, Gianfranco Zola and Gianluca Vialli. Rush believes Hughes' experiences outside England as a player and then those as a coach at Wales and Blackburn allow him to handle the inflated egos that tend to accompany the game's superstars.

"He will have seen how players react when they're not playing from his time abroad," says Rush. "Because a lot of players can take it personally and go into a sulk, which isn't good for the team. You've got to keep the players on your side.

"And when you get different sorts of nationalities coming into the club it's important to get to know that person's strength and how to get the best out of the player. You need a good team spirit in the camp and Mark has always been successful in keeping his sides together.

"But expectations change. Getting Blackburn into Europe was a major achievement, but it's a different pressure he faces now and it's about knowing how to man-manage different types of players and getting the training right to have the right attitude going into games.

"Mark's a quiet person, but he's a good manager and a real winner and will have that respect from his playing days as well. When I played with him he always wanted to win and he'll look at what he has done as a player to help him in management. When everything was down and he was losing, he tried even harder to get himself out of the situation and I'm sure he'll do that as a manager too."

Whether or not he'll be given the opportunity to do that remains to be seen.

Seven managerial changes this season in England's top-flight have underlined the precarious nature of bossing a Premier League side, with a World Cup winning coach ousted after only seven months in the job. Rush hopes his "good friend" Hughes is given time to get things right at City.

"Yeah I hope so, but the thing with football is that you never know what's going to happen. Instant success is the main goal now; you just have to look at [Luiz Felipe] Scolari getting sacked at Chelsea, Tony Adams at Portsmouth and Paul Ince at Blackburn to see managers aren't getting time to do their job.

"Sometimes, when you spend a lot of money people expect immediate results and it doesn't happen. It's not going to be easy for Mark, but I'd like to see him stay at City, be given a chance and then be judged on how they do next year.

"Next season's the one because he'll have had pre-season, got the players he wants and let the ones go that he feels he doesn't need. That's what he'd like to get done, but sometimes in football you don't get that chance."
Follow Emirates 24|7 on Google News.