Mourinho's 'perfect' Inter sink Chelsea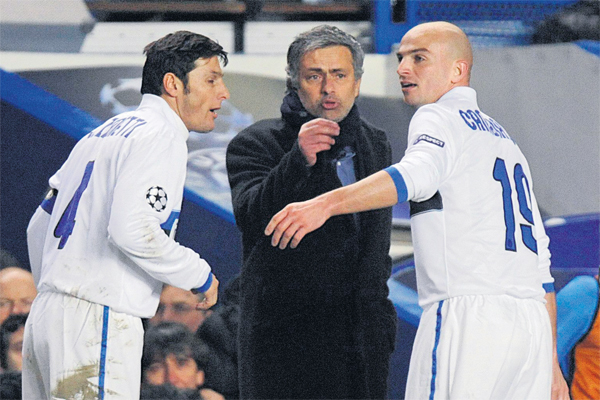 Jose Mourinho insisted Inter Milan's 1-0 victory – 3-1 on aggregate – over his former club Chelsea in the Champions League on Tuesday was just reward for the perfect performance.
Mourinho savoured a moment of sweet revenge for his sacking as Chelsea boss in September 2007 as Samuel Eto'o's late goal at Stamford Bridge sent the Blues crashing out of Europe's elite club competition at the last 16 stage.
The Portuguese coach, who won five major trophies in three years with Chelsea, crafted a brilliant game-plan to frustrate Carlo Ancelotti's side and he admitted his Inter players carried it out to the letter.
"I am very happy because we won and we were the best team. Sometimes in football you win because you were lucky and sometimes you win because you are the best team from the first minute until the last.
"That is the perfect win. That team was my team," Mourinho said.
"I think everything was superior. Chelsea had reactions of frustration, of a team that felt the opposition was superior. Our team started the second half in an incredible way," he said.
"We were the best team by far. Chelsea is a great team, we know that and we came here knowing very well the way they play. We knew that if you don't control the game by having the ball you have no chance.
"Every player performed at the highest level to win here, this must be almost a perfect performance. We deserve so much this victory, we were the best team."
Mourinho had promised not to celebrate if Inter won, but he leapt to his feet when Eto'o scored and then hurried down the tunnel at full-time to enjoy the moment with his players in the dressing room.
"I celebrated a lot in the dressing room when the game was over. It was a big victory for my team," Mourinho said. "As I have said before, I am a professional, I love Chelsea, I love this stadium, I love these people but I am a professional.
"Who knows, in the future I may coach another English team and I will come here again as an opponent."
Ancelotti was brought to Chelsea by owner Roman Abramovich with the specific aim of ending the club's long wait to be crowned kings of Europe, but instead the Blues have bowed out in the last 16 for the first time since 2006.
The Italian has never been on good terms with Mourinho but he conceded Inter were well worth their victory and, with Abramovich perhaps in mind, he apologised for Chelsea's premature exit. "Inter deserved to win. They played a very good game. They put strong pressure on our midfielders and we were not capable of playing how we wanted," Ancelotti said.
"We were never fully in control during the game. There were only a few moments when we could control it. I think we could play better. We are very sorry, but this is the reality. I am disappointed because we are out of a very important competition but I want to say best wishes to Inter because I have nothing against them or Mourinho."
The result was a tactical triumph for Mourinho but Ancelotti insisted he had not been out-witted by the Inter coach. "I wasn't surprised by Mourinho's tactics. One thing I was surpised by was the hard work put in by the two wide players, Eto'o and Pandev," he added.
"I know what the expectations are in this environment and it is normal a manager will come under more pressure if he loses a few matches."
Follow Emirates 24|7 on Google News.