Player power key to better Blues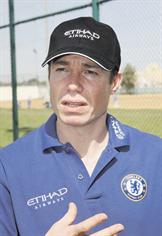 The backlog of texts on Graeme Le Saux's mobile as he arrived in Al Ain should have sounded the warning bells that something was amiss back home in London.

The former Chelsea and England defender was preparing for his second sortie to the Emirates as coach for Etihad Airways Chelsea Soccer Schools and was surprised to encounter a full inbox when switching on his handset on Monday night.

The messages relayed news from Stamford Bridge: Luiz Felipe Scolari, the Chelsea coach of less than seven months, had been sacked by the board.

"I think what happened was a surprise to most people," said Le Saux between sessions with local Emirati football fans. "I landed here, turned on my phone and wondered what was going on because I was popular for a change.

"And then I found out that it was people in England trying to get me to do interviews and offer my thoughts on the situation."

Le Saux is an obvious choice for comment. Having signed for Chelsea from St Paul's of Jersey as an 18-year-old in 1987, the left-back helped the club gain promotion to the old First Division two years later.

A series of substitutions in his fourth season forced Le Saux's hand and he departed to Blackburn Rovers in 1993. But the Channel Islander became the club's most expensive defender when he returned for £7 million (Dh36.4m) in 1997.

Under Ruud Gullit, he helped the club to immediate European Cup Winners' Cup and League Cup success and went on to represent the Blues in 280 games. Le Saux experienced four managerial changes in three years during his career in west London. Gullit was ousted after an alleged disagreement with the board and was replaced by Gianluca Vialli, the celebrated Italian striker.

Graham Rix succeeded Vialli in a very brief spell as caretaker manager in 2000, before Ken Bates, the then-chairman, opted for Claudio Ranieri, another Italian. Jose Mourinho, Avram Grant and now Scolari have all occupied the top job since.

Although the emphasis has now shifted to Guus Hiddink after the Russian accepted the job until the end of the season at least, Le Saux insists the players have the most significant role to play in getting Chelsea's season back on track

"I think aspirations for the rest of the season are going to revolve around the experience the club have within the dressing room," admits Le Saux. "They have a lot of experience there, and great quality, so it's a case of the players reacting to the situation in a positive way.

"We've seen it on many occasions where something drastic happens at the club and it often encourages players to galvanise and pull together a bit more and play well. John Terry's captain of the club and obviously central to keeping the spirit and helping to focus the players.

"But all the players are responsible. When a club goes through changes it's quite easy for players to withdraw and to concentrate on their own performance – by making sure they do better for themselves – and you then lose a little bit of the team. It's very important to ensure they all give 100 per cent for the team."

Scolari's side weren't playing to their potential. Boasting a plethora of expensive stars, Chelsea had won only five of their past 12 Premier League matches, losing to Arsenal, Manchester United and Liverpool, their three closest rivals, in an uninspiring sequence of results that all-but ended their title chase.

Trailing United by seven points – Sir Alex Ferguson's men also have a game in hand – the club have slipped to fourth in the league, a position that the board deemed not good enough to save the Brazilian boss's job.

With Chelsea hosting Juventus in the last 16 of the Champions League this month, Le Saux now feels their European quest takes on greater importance.

"I think it has too," says the 40-year-old. "You don't prioritise; you try to win every game, but it's possibly more realistic to think they could maintain some consistency in a competition that has fewer games between now and the end of the season.

"There's still a lot of pride there after the disappointment of last season in finishing runner-up in the league and losing the Champions League in the final.

"There'll be a lot of players at the club who are pretty frustrated at the moment and you'd think the rest of the season would be an opportunity to put that right."
Follow Emirates 24|7 on Google News.