Rafa Baffles as United go clear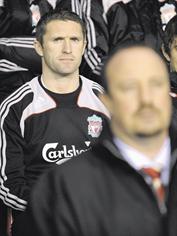 It was a full round of mid-week matches in the Premier League, with Liverpool throwing away the chance to go top of the table, Chelsea climbing into second while leaders Manchester United demolished West Brom.

On Wednesday, Liverpool Manager Rafa Benitez earned the wrath of Reds fans for his tactical decisions in a 1-1 draw against Wigan.

Yossi Benayoun put the Merseysiders a goal up in the first-half and after the break, Benitez substituted Fernando Torres for, someone not called Robbie Keane. In fact, he first brought on Albert Riera and then Dirk Kuyt before introducing the Irishman with only five minutes left in the game.

Benitez has said Keane is a "big part'"of his plans and is "not going anywhere' in this transfer window," and he has certainly stayed true to his word – the striker has hardly left the bench this January. Surely £20 million (Dh109m) for someone to keep a seat warm for Torres, makes Manchester City's £100 million rejected offer for Kaka seem too low?

The decision that angered the fans though was the substitution of Steven Gerrard after Wigan had equalised through Mido in the 83rd minute. Given that the Reds captain scores about 99.99 per cent of his goals after the 90 minutes is up, it's easy to understand why the Reds fans were left furious.

Liverpool now find themselves third in the table behind Manchester United and Chelsea, who hopped above them by beating Middlesbrough 2-0.

Despite a brace from Salomon Kalou, Chelsea, true to their strange home form this season, struggled to break down the visitors for much off the game. In fact, there was more excitement on the sidelines than on the pitch as the Blues boss Luis Felipe Scolari, known for his side-line punch-ups, almost came to blows with a Middlesbrough coach, Malcolm Crosby, over a disputed decision by the referee.

Manchester United, meanwhile, are cruising after a 5-0 win on Tuesday, albeit over bottom club West Brom. They now stand two points clear at the top with a game in hand.

Fifa World player of the Year, Cristiano Ronaldo, hit home a brace while Nemanja Vidic, Carlos Tevez and Dimitar Berbatov netted one apiece.

The match also saw goalkeeper Edwin Van der Sar surpass Chelsea stopper Petr Cech's record of 1,025 minutes without conceding a goal – that's 11 consecutive clean sheets. A lot of the credit also has to go to the defence of the Red Devils, who even without Rio Ferdinand are as tight as Mark Hughes is with the huge war chest he has for transfers.

With three days left in the transfer window, the City boss has bought three players in January. Anyway they beat Newcastle 2-1 with new boy Craig Bellamy scoring on his debut.

In other games, Arsenal fell further behind as they drew 1-1 with Everton, while Aston Villa beat free-falling Portsmouth 1-0 to move five points clear in fourth.

Harry Redknapp's plans to recruit as many former Tottenham Hotspur players as possible in one transfer window was given a boost as his side clinically beat Stoke 3-1. And Sam Allardyce's happy return to management continued as Blackburn drew 2-2 with Bolton.

Meanwhile, Hull are fast realising that the Premier League is a cruel place as their downward spiral continued with a 2-0 loss to West Ham and Sunderland beat Fulham 1-0.
Follow Emirates 24|7 on Google News.