Top tiger unfazed by League pressure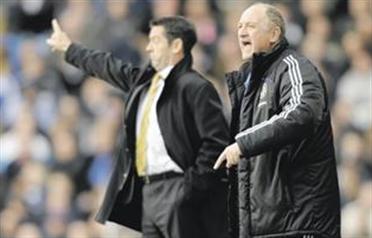 Two Premier League managers have left their posts since Phil Brown arrived in Dubai five days ago. The Hull City boss landed on our sun-kissed shores on Sunday for a mid-season training camp, only to watch as Portsmouth and Chelsea parted company with Tony Adams and Luiz Felipe Scolari a day later.

Occupying the hotseat of a top-flight club is a precarious position indeed. Brown, however, relishes life in football's fast lane.

"I wouldn't want it any other way," he says with a broad grin as he relaxes into his chair at the Royal Meridian. "The attention is part and parcel of everyday life being a Premier League manager. At times it's like rabbits in headlights and you can get caught up with it. But I think I've handled it well."

He has acquitted himself perfectly. Tipped by many to stay rooted to the bottom of the table, Hull have occupied loftier positions since they embarked on their first campaign in Europe's most lucrative league.

Away wins at the Emirates, White Hart Lane and St James's Park signalled immediate intent and the club now sit strong with 29 points. The focus is still staying up – Brown believes another 13 points should secure survival – with at least 10 teams involved in the basement battle.

The strain of the Premier League has taken its toll on seven coaches so far. This week Adams and Scolari joined a scaling scrapheap that already includes Roy Keane, Kevin Keegan, Juande Ramos and Paul Ince, but Brown, fighting fit a year short of his 50th birthday, appreciates his work – there are much more pressing concerns elsewhere.

"People talk about the pressure, but don't think Premier League managers are under pressure," he says. "I know two got sacked while I've been out here and sympathies obviously go out to those guys because it's a tough world.

"But pressure is fighting forest fires in Australia, losing your family, losing your house or your livelihood. Premier League management is nothing compared to any of that."

Brown was the last manager to shake hands with Scolari before Chelsea dismissed him on Monday. Hull had just recaptured some of that early season form – an eight-game winless streak preceded their trip to the Bridge – to hold London's luminaries to a goalless draw. The home fans booed their team off. The Brazilian got the boot.

"I think the sacking shocked a lot of people, myself included," admits Brown. "When Chelsea came to the KC Stadium at the start of the season they beat us 3-0 in one of the best performances I've seen all year. They were comprehensive winners; clinical, slick and classy.

"To go from that to what happened at Stamford Bridge on Saturday is crazy. It's far too hasty as far as I'm concerned, but it's all about expectations. Theirs are much different from ours.

"Scolari made one substitution that the fans weren't happy with. If you bring Didier Drogba on for Ricardo Quaresma and the fans class that as not knowing what you're doing, that shows you the different expectations at our clubs.

"I'd love to be able to bring on Drogba, and to have Deco sitting on the bench. We haven't got that at Hull."

What the Premier League club do have, however, is a manager with ambitions to match their top-flight status. Brown believes in the club that took a chance on him when he'd been sacked by Derby after only seven months in charge.

They reaped the rewards almost immediately. The former Bolton defender led the club to safety in the Championship in his first six months in charge and masterminded their graduation to the elite league the following season. While he doesn't like to predict the future, Brown sees the relationship remaining rosy for some time to come.

"I've got a long-term plan and fortunately I've got a long-term chairman [Paul Duffen] who's a very good friend of mine. He's out here in Dubai with us and sharing all the highs and lows," he says. "Hopefully, we'll continue on this high for as long as we possibly can."
Follow Emirates 24|7 on Google News.