World Series to head for India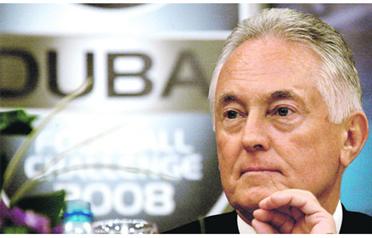 Stuart Webb, chairman of Football World Series, says, following the success of this week's Dubai Challenge Cup between AC Milan and Hamburg, he is ready to take his soccer showcase to the Subcontinent in a bid to promote football in the region.

India is notorious for its perceived unabashed apathy towards the beautiful game. But Webb says the country will be ready by the time he takes the best players in the world to the stadiums of one of the Subcontinent's biggest cities.

"We are discussing a World Series event with the [Indian] government," says Webb, who brought the World Series tournament to the UAE for the first time three years ago.

"[The host city] all depends on which regional government is willing to commit, because it costs a lot of money to put the show on. We need someone to commit like Dubai has committed, like New York has committed. So maybe it will take place in Mumbai or Kolkata – Kolkata seems like a hotbed."

Hotbed indeed. In 2008, the city's biggest football rivalry, the Kolkata Derby, attracted more than 120,000 spectators to the Salt Lake Stadium to watch local sides East Bengal and Mohun Bagan take to the pitch.

But the World Series is not just about promoting football, it's also about promoting the host city.

"We stage events around the world and work with local governments and sponsors," says Webb, the mastermind behind the World Series' original concept. "The money that comes in, we distribute among the teams, with any unpaid balance being given to Unicef. It's a great format and it's developing worldwide.

"It's a bit based on Formula One where Bernie Ecclestone will talk to governments that want to promote their city.

"India is obviously an emerging market that is on our agenda, likewise with New York – any country that is out of season or any club that wants pre-season training."

India has already looked to F1 in a bid to promote the country and will host a grand prix in 2011 in Greater Noida, outside Delhi. Now Webb's World Series can push tourism further through its creator's substantial contacts book.

Webb has deals with many of the leading clubs in the world, including Arsenal, Sevilla, Inter Milan, Ajax and Celtic and has seen events held in Shanghai, Amsterdam, New York and Dubai. "The business format is commercially viable, but it's the clubs who are looking for games. They are looking to promote their heritage, looking to take their brand to Asia or wherever. It's the brand awareness and we give them that opportunity," says Webb, a former chairman of England's Derby County.

"We have 20 teams playing with us; the leading clubs in every country and they want to be with us. They are ringing us asking where we are hosting [an event] next. So that gives us the brand name of the club and we can then take that and sell it to places like India, because many of these clubs see India as the next step globally."

But Webb is also quick to make clear the World Series won't be arriving in the Subcontinent in the next 12 months – events can take up to three years to organise. A more realistic date, he says, would be 2011. As for the teams who will be lining up, much of that is up to the clubs.

"We've got the 20 top teams and they all want to play in a big tournament. We put a tournament on and we invite them," says Webb.

"Some clubs will say they want to play in New York to give the brand to America so they will come, other clubs will want to market themselves in Asia or India. We very much work together. It's like a family – we have a big family."

That family is sure to grow even larger when the World Series arrives in a country populated by more than one billion people – a fact not lost on Webb. "India will be ready for us," he says. "They will experience the football and get caught up in the razzmatazz – much like Dubai has."


Loyal to the game

As well as being in talks with India, Stuart Webb also revealed his World Series is being courted by several other governments around the Middle East.

But the chairman insists he has no immediate interest in discussing a possible second event because of the special relationship he has with Dubai.

"We have been approached by various governments in the  Middle East, but we have signed a pledge with Dubai. This is where we are and this is our base," said Webb. "Dubai was the first and we are loyal. We will continue to support Dubai."

The contract between the emirate and the World Series expires in two years time, but Webb is confident it will be renewed – so long as the host city wishes to maintain the relationship.

"I think the most important thing for Dubai is that it doesn't lose the position it's in. The emirate is in a very good position in the world of sports, but its got to keep it going," he added.

"I know there is a lot of talk of financial crises, but I don't think Dubai can afford to take its foot off the pedal with sport. Sport has identified the city and put it on the map."
Follow Emirates 24|7 on Google News.