Doha in the dark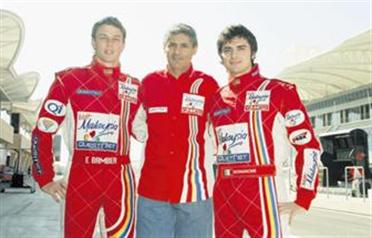 Raad S Abduljawad, the Saudi co-owner of the GP2 Asia team My Qi-Meritus.Mahara, is delighted to be playing a part in Qatar's inaugural venture into the series this weekend.

The 5.4-kilometre Losail International Circuit, which is the world's largest venue built with permanent floodlights, will host GP2's first night race. Qatar will now join Bahrain and the UAE as part of the growing number of Arab countries hosting top-notch single-seater events.

"From my point of view, I'm looking forward to the race in Qatar because it is a country where motorsports has caught on quickly," said Abduljawad, who together with founder Peter Thompson and Malaysian Firhat Yuri bin Dato Mokhzani own the team. "It is amazing what they are doing there, for all sports in general.

"From a motorsports point of view, this first ever night race of the GP2 Asia series will be part of history and an unforgettable occasion. We are proud to be among the teams that will make it happen."

With no single-seater data available for the Doha track, it is an unknown factor for all the teams in the championship – led by Dams' Japanese driver, Kamui Kobayashi, on 34 points.

Durango's Davide Valsecchi (24) and Piquet GP's Roldan Rodriguez (22) complete the top three.

The Meritus.Mahara team will have the slight edge on their rivals, having the local support on their side – although with more than 1,000 Questnet-clad fans turning up to support the team at the past event in Bahrain, Abduljawad reveals that is now true all over the region.

"I think we are beginning to be familiar all over Asia and in the GCC countries as an Arab-Malaysian team, so I think, wherever we go, Malaysia or here, than there are people who can identify with us."

Meanwhile, with the new cost-reducing regulations in place for Formula One and GP2, Abduljawad feels motorsports is the perfect project to be involved in during these financially troubled times.

"Teams in general are cutting costs and concentrating on core aspects of the business," said Abduljawad, who is also the managing director of one of Saudi Arabia's top ranking companies, Saudi Diesel Equipment Co Ltd. "It's definitely not a bad time for us.

"When the markets are down, companies need to expose themselves to show they are doing well and are successful. Motor racing is a good place to do that.

"Yes, it is a tough time, but I think it's up to companies to come out and show that all is well with them."

Mokhzani, the team director, concurred "Grand Prix racing is more than 50 years old and racing has been around since, the second car was ever made, so the sport will be here for the long run.

"It is a trying time to attract sponsors, but they see the value of what we do.

"It's probably arguable that when times are tough and advertising is down, the profile of motorsports goes up because there is less competition for the attention of the public.

"So, it is a good time for companies to advertise in motor racing because the visibility is higher and their money goes further."

Meanwhile, the third round of the Speedcar Series will also take place at Losail with ex-Formula One drivers Johnny Herbert and Heinz-Harald Frentzen leading the standings, tied on 21 points. UAE's Sheikh Hasher Al Maktoum will also be taking part in the Speedcar night races.


Crashing the party

My Qi-Meritus.Mahara driver Marco Bonanomi, who made his debut for the team in Bahrain last month, is not concerned about having to drive on an unknown track. Having impressed with some of the quickest times in Sakhir, he is looking forward to GP2 Asia's first night race in Qatar this weekend.

"I expect to show the same potential as in Bahrain but fight for my first points and even a podium," said the 23-year-old Italian, who won the Dubai race for ART, in last season's GP2 Asia.

"Losail is a new track for all drivers and a night race has different characteristics, but I am confident, especially with the good job that our mechanics are doing to prepare the car.

"I have watched some videos from MotoGP races at the Losail track and have taken notes, but a night race will definitely be much more exciting."

Bonanomi is much happier racing on Middle East circuits than Europe for the moment because he believes that the tracks here provide more of a challenge.

Last year, Bonanomi was involved in a sensational crash while driving in the World Series by Renault in Barcelona.

"You have to watch it on youtube," said Bonanomi laughing.

"Europe's tracks have lots of history, but unfortunately the FIA are doing a bad job there," said the 23-year-old. "They are making racing without risks.

"In historic circuits like Monza and Spa [Belgium] they are creating areas off the track in asphalt, not grass nor gravel, which means a lot less risk for the driver.

"They are changing the shapes of the corners and putting chicanes in the tougher ones, and that is no good, because the risk is part of the sport. But, this will also happen in Asia soon because the FIA have set the rules."
Follow Emirates 24|7 on Google News.