F1 supremo doubts Italian's return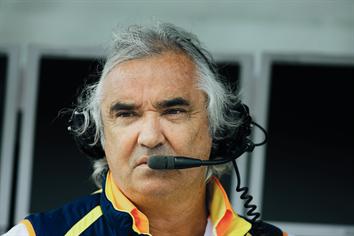 Flavio Briatore is unlikely to come back to Formula One any time soon despite a French court overturning the former Renault team principal's lifetime ban, according to commercial rights holder Bernie Ecclestone.

"He's happy he's won, of course. But he didn't say he wanted to come back to Formula One, and I don't think he will," he said yesterday, after speaking to the Italian.

Briatore was initially handed the ban in September for a plot to rig the outcome of the 2008 Singapore Grand Prix by having Brazilian driver Nelson Piquet stage a deliberate crash.

"It's not over by a long way," added Ecclestone of the legal battles ahead. "Just because a bloody judge has said what he's said doesn't make any difference. Nothing's happened.

"The court said it was wrong, so the FIA can start all over again with a new hearing, and it will go on and on and on. That's the worst thing. It would be better if they all get round a table and see what they can do."

The governing International Automobile Federation (FIA), now under the leadership of former Ferrari boss Jean Todt, indicated it would keep on fighting with an appeal likely to take many more months to resolve.

"The FIA's ability to exclude those who intentionally put others' lives at risk has never before been put into doubt and the FIA is carefully considering its appeal options on this point," it said in a statement. "The Court's decision is not enforceable until the FIA's appeal options have been exhausted. Until then, the World Motor Sport Council's decision continues to apply.

"In addition, the FIA intends to consider appropriate actions to ensure that no persons who would engage, or who have engaged, in such dangerous activities or acts of intentional cheating will be allowed to participate in Formula One in the future."

On Tuesday, Briatore indicated that he was in no rush to return to the paddock and his opportunities appear limited in any case. Another problem is that the court victory was due to procedural flaws in the FIA's original hearing rather than any rebuttal of the allegations, which cast a cloud of scandal over the sport last year.

"There's no reason he can't carry on as a manager if he wants," suggested Ecclestone. "But it would be difficult for someone who has done something wrong to return in his old job or something similar."

Ferrari team boss Stefano Domenicali put it more bluntly in an interview in Italy earlier in the week, saying: "People don't like reheated soup. [Briatore] will have to find another opportunity." 
Keep up with the latest business news from the region with the Emirates Business 24|7 daily newsletter. To subscribe to the newsletter, please click here.
Follow Emirates 24|7 on Google News.