Happy Hamilton looks sharp for Bahrain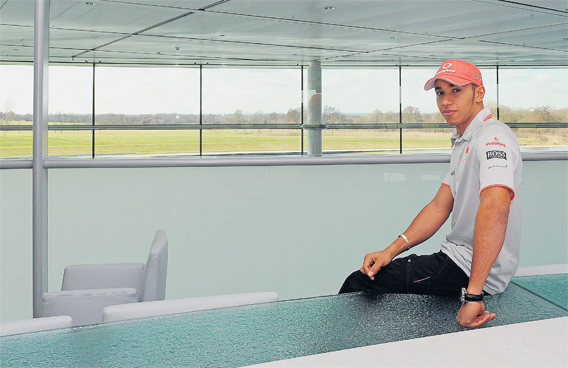 Whatever happens in next weekend's Formula One season-opener in Bahrain, Lewis Hamilton expects to keep on smiling.
Reunited with his girlfriend, pop singer Nicole Scherzinger, and with a McLaren that has looked quick in testing after a difficult 2009 season, the 25-year-old says he is happier than ever.
"Regardless of what happens next week, or in the first few races, I'm in the happiest place, just in my life," said the 2008 world champion, after a karting 'contest' this week in which he and new world champion team mate Jenson Button effortlessly put reporters in their place.
"I feel fit, happy with the direction I'm taking, happy in my personal relationship," he added, relaxed and smiling in contrast to the tired and sweaty group around him. "Nothing is perfect but it's a work in progress, it's all going in the same direction, so I'm really good."
Hamilton, joking with Button like the best of friends but fiercely competitive the second he stepped behind the wheel, said his team mate's arrival at McLaren had also unexpectedly opened doors.
"Just working with him, he is probably one of the easiest people I know to get on with," he explained.
"He is very professional, I was blown away by how polite he is and well-mannered, which shows he has real good family values.
"I knew he was like that before, but when you spend quality time with someone, you get to see perhaps a bit more," added the Briton, who has never been beaten over the course of a championship by any team mate.
"For example, it might be opening a door for you, something small like that. I don't know many drivers who do that. I try to be a gentleman, but perhaps more to women."
Hamilton revealed this week that he would be seeking a new manager, with his father focusing on other business interests. He said however that he was not about to break loose.
"I am who I am, I don't think anybody has stopped me from being who I wanted to be," he said. "Maybe I might buy one car this year, who knows. But that's not being wild.
"I've still the same girl, I race for the same team and I've still the same dedication and determination. I don't think you should change something that works. My style and my approach has worked for me always and I intend to keep it that way."
The bookmakers favour Hamilton over Button and he does not expect to lose either, although he said his experiences from last year had made him stronger and better equipped mentally.
His happiness was another weapon. "When you are happy you win races," he said. "I remember, some races I've won, I've been in the happiest mood, and nothing could touch it. It's a great feeling when you do that, so hopefully it will contribute.
"I'm just going to do the best job I can, and he is going to push his hardest," added Hamilton when asked whether he could keep Button in his mirrors.
Keep up with the latest business news from the region with the Emirates Business 24|7 daily newsletter. To subscribe to the newsletter, please click here.
Follow Emirates 24|7 on Google News.