Hunting a racing dream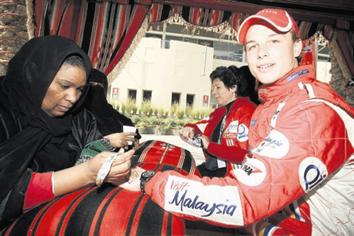 When I first spot Earl Bamber he is lying on a carpet in an outdoor rest area at the paddocks of the Bahrain International Circuit. Having just finished a team meeting, the My Qi-Meritus.Mahara driver gives me a rueful grin as I sit beside him, notepad in hand.

It is Grand Racing weekend in Bahrain and, the 18-year-old has barely had time to breathe. Photo shoots, press conferences, team meetings, sponsorship appearances, signature sessions and, of course, two high octane GP2 Asia races.

And it is in the five minutes he has to relax before attending yet another photo shoot ahead of the start of his sprint race, I disturb his peaceful moment by sticking my dictaphone in his face.

But it quickly becomes apparent that despite his busy schedule, Bamber knows how to relax away from the racing circuit.

"My parents were in the hunting and safari business," says the New Zealander, who eventually finished 11th and seventh in the two races at the Sakhir Circuit. "I was home-schooled for a bit and so I was always hunting and doing stuff like that on our farm.

"I really enjoy hunting and it is quite nice to go to the farm and do that and, even though we moved away to stay in Wanganui, I still go back.

"Otherwise, I just like chilling out with friends. You don't get to relax much around the race track and you're always training so it's nice to go with friends and get away from it all."

In fact, that is exactly what he is doing until the February 13-14 races in Qatar. He will join friends in Portugal, before returning to Doha in the week of GP2 Asia's first night race.

After Qatar, the series takes a two month lapse before races start again in Malaysia in the first weekend of March giving Bamber the perfect opportunity to indulge in his favourite pastime – careering around the family farm. Despite being surrounded by horses, Bamber always preferred to use the wide open paddocks to drive anything with an engine rather than indulge in horse-riding.

"I used to drive motorbikes and basically everything there was to drive on the farm and we did a lot of paddock racing as well."

However, as with most New Zealanders, he admits rugby is a firm passion and reveals on his last trip to Dubai for the rain-affected leg of the GP2 series in December, he managed to sneak a visit to the Sevens to cheer on the All Blacks. "I used to play rugby until I was 15 and, although I enjoyed it, I had more passion for motorsports and loved riding cars. So rather than playing rugby, I decided I wanted to race.

"I'm still a passionate rugby follower and when I was in Dubai, I met up with some Kiwi friends to support New Zealand at the Sevens and although they lost, it was really good fun. Rugby sevens is always a crazy time, so it was nice to do something like that before the race weekend."

Bamber's new My Qi-Meritus.Mahara team-mate, Italian-born Marco Bonanomi, joins us and we make our way to a trackside photoshoot. The drivers share a similar grounding in the sport as they both received go-karts as presents at an early age.

"My father got me a go-kart for my seventh birthday," says Bamber, who has won more than a quarter of all the races he has started, although he has only featured three times among the points in the first five GP2 Asia races.

"He has been my biggest supporter and has always been there and motivated me along. I think it is basically essential if you want to be quick in motor racing that you race go-karts."

Our journey to the photoshoot is interrupted by the arrival of an attractive female official, who asks if she can take a picture with the drivers. They happily comply and immediately afterwards the conversation turns to the fairer sex with Bamber and Bonanomi arguing whether Italian or French girls are more beautiful. The photographer soon gets involved in the debate too.

The lapse is only temporary though, as both drivers refocus for the shoot and prepare for their upcoming race. In between, Bamber tells me about his latest travelling 'companion'.

"I have a PSP, my Christmas present, that I bring with me around the world and it has got racing games.

"However, I'm still just starting my collection of racing games so I can't tell you which is my favourite just yet."

Or, perhaps he is waiting until he is the star of his own racing game before he picks a favourite.
Follow Emirates 24|7 on Google News.