Age-old sumo faces call for change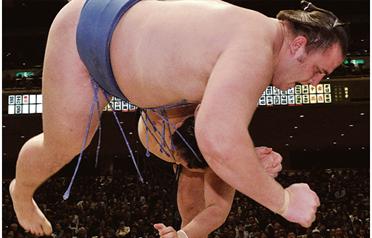 Last summer a landslide election changed the face of Japanese politics. Now the 2,000-year-old national sport of sumo faces its own shake-up if a group of reformist rebels have their way.

The Japan Sumo Association has been thrown into turmoil by seven breakaway members who have demanded sweeping changes to boost the waning popularity of the sport, which has been hit by a series of scandals in recent years.

Leading the reformist charge in the ritualistic, male-only sport is former grand champion Takano?hana, 37, who wants to start by having the association's 10 board members openly elected rather than decided behind closed doors.

Takanohana's goal is to revive the sport, which has faced increasing competition, first from baseball and more recently football, and to introduce it in schools to breed a new generation of home-grown wrestlers.

"I want to expand the spirit of reform," said Takano?hana last week. "A lot of people aged around 40 like me are thinking of trying to help develop the association beyond its factions."

The association – made up of stablemasters, top athletes and judges – in 1968 introduced elections to its board, which manages the sport and organises tournaments, ticket sales and broadcasting rights.

But in practice, the body has only held three votes since then because most years the make-up of the board was decided in backroom talks by influential faction leaders, usually leaving 10 candidates for 10 board positions.

In recent years, the reclusive body has had to react to a series of scandals, including the deadly "hazing" of a teenage wrestler, one fighter's arrest for illegal drug use and allegations of match-fixing. Many Japanese were shocked by the 2007 case of a stable master, now in jail, who ordered the brutal "toughening up" treatment of a 17-year-old wrestler who died after being beaten with a beer bottle and baseball bat.

A study by the Japan Sumo Association found that 90 per cent of sumo stables allowed violent beatings of trainees, and punishments such as forcing salt or sand into their mouths.

Sumo has not had a Japanese-born champion in more than three years, and in recent tournaments more than one third of competitors have been foreigners.
Keep up with the latest business news from the region with the Emirates Business 24|7 daily newsletter. To subscribe to the newsletter, please click here.
Follow Emirates 24|7 on Google News.