Becoming goal savvy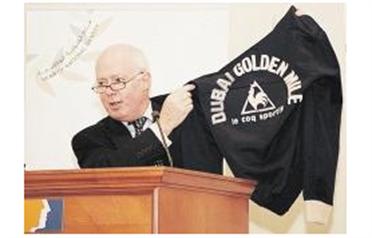 Both sports organisers and sponsors need to change their way of thinking during these times of financial instability, says Patrick Nally, who is regarded as the pioneer of international sports marketing and sponsorships.

The Englishman, who negotiated the sponsorship deal between Fifa and Coca-Cola that still continues to this day, was invited to address the participants of the Hamdan bin Mohammed Programme for Sports Leadership Development at their quarterly Blue Ocean Forum in Dubai this week.

The marketing principles he created for Fifa, through his company West Nally, are still used today at World Cups and by the International Olympic Committee. However, he believes things will change due to the current financial climate.

"During financial crisis, companies are more conscious on what they spend on. They also want to look at social responsibility, sustainability and corporate responsibility," said Nally, who handled the marketing for Fifa at the 1978, 1982, 1986 and 1990 World Cups.

"So the industry has to respond to this by presenting things in a more meaningful and thoughtful manner. Not just try to sell packages of rights, but come up with ways and policies that can help both parties.

"In some ways this crisis will help, because sports organisers now know they have to be more conscious about giving value for money."

Nally also had advice for companies looking to pursue advertising opportunities in Dubai's many sports events, telling them "to be aware of their objectives".

He said: "Companies need to research whether sports or events can deliver what they want to achieve and if this correlates with their brand image they are trying to portray.

"Sport is very effective for marketing and also powerful because it deals with people's likes and dislikes, so it is important for a company to realise what they want to get out of the relationship so they can assess the results in the end."

While Nally believes the UAE, has done an efficient job in marketing itself through sports, he warns in time they will need to also produce the same success on the field with their national teams to maintain their status.

"I think national pride is incredibly important to a nation and to a region," says Nally. "Here, in this case you have sport being used at the upper level for tourism and property, while probably not much is being done at the grass roots level to improve the quality of the performers or to actually concentrate on just a few sports.

"I think it's important going into the future that the UAE achieves things in a sporting way because it's an absolute passionate thing for a nation. If you look at any nation that actually qualifies for a World Cup tournament, there is so much emotion and passion for the public, it achieves so much good feeling in business and it elevates the whole country."


Pioneers must continue

Dubai was one of the first cities that realised how sport could be used as a marketing tool in the 1970s, according to marketing guru Patrick Nally.

Together with his marketing company West Nally, the Englishman has been part of some of the biggest marketing deals in sport and says the emirate created the International Association of Athletics Federations' (IAAF's) Dubai Golden Series, by inserting events into existing meets and paying top athletes to participate.

"It was a very early thought for them to promote the Dubai name, because they realised that will give them TV exposure. The surprising aspect is that it was the first time the IAAF sanctioned its athletes to be paid and this made Dubai part of turning athletics into a professional and paid-sport."

Nally says the approach that Dubai is taking in hosting world-class sports events to boost its image reminds him of Monte Carlo.

"Monte Carlo is a small principality and they, like Dubai, saw sports and imagery as an important means to promote tourism and real estate in terms of selling property and providing a tax haven for wealthy people to be part of," said Nally. "Dubai, by bringing in expensive horse races and golf tournaments have created this big, exciting buzz of being the place to be on holiday, to have a second home, to be seen and to be with all the movers and shakers of the world.

"And like Monte Carlo, it needs to continue to do this and refresh this view if it wants to carry on attracting businessmen and companies. It needs to constantly be putting on big international events and be seen as a glamour location like Monte Carlo, which is one of the most attractive places to go in the world."
Follow Emirates 24|7 on Google News.