Beware of the silent assassin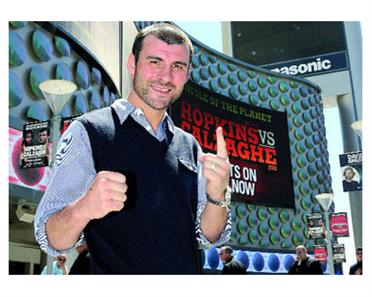 Much has been written about Joe Calzaghe's (pictured above) first fight outside Britain yet the boxer himself has made little, if any, fuss.
Accusations that he won't be able to deal with all the hype and razzamatazz that accompanies his light-heavyweight battle against American legend Bernard Hopkins, have been ducked and dived since he arrived in Sin City Las Vegas two weeks ago.
The giant billboards that highlight the media overdrive in the lead up to the fight billed as the "Battle of the Planet" may be far removed from his quaint old gym in Newbridge, Wales, but the greatest British boxer of the modern era shouldn't have too much to fear come early tomorrow morning.
His opponent, 'The Executioner', sits in the sport's Hall of Fame – 10 years of dominance at middleweight warrant that – and has beaten some classy acts on his way there, but the truth is Hopkins should be too old for the man with electric handspeed and quick footwork.
Calzaghe, 36, has dominated his weight division for the past 10 years; ever since the Golden Boy of Welsh boxing dispatched Chris Eubank at the Sheffield Arena in 1997.
The stylish southpaw has since seen off respected challengers including Jeff Lacy and Mikkel Kessler, and the fact he has stayed quiet during his opponent's pre-fight histrionics speaks volumes.
Calzaghe has just gone about his business as if he were back training in Blighty. No entourage or excessive workouts in front of the US media. He has stayed away from the Strip to focus on the fighter he has chased for years.
He has even admitted to  watching videos of the 43-year-old only once, in Hopkins' last victory against Ronald "Winky" Wright, choosing instead to concentrate on how he'll beat the man with a record 48 wins under his belt. The one telling factor, though, could be that Hopkins won most of those engagements when he was at his peak in the 1990s.
There are ways for Calzaghe to come unstuck – Hopkins' is a brawler who will use forearms, elbows and headbutts to rile the Welshman. But surely the WBC, WBA and WBO super-middleweight champion is too experienced to become embroiled in a dogfight?
Calzaghe has side-stepped Hopkins' jokes and jibes in the months since the fight was announced. He has remained so laid back that Enzo, his father and trainer, has had to bite back and get involved with the man who likes to talk a good game.
Hopkins should take a leaf out of Calzaghe's book and focus on what happens inside the ring. He should beware that his opponent's bite is far worse than his bark.
Follow Emirates 24|7 on Google News.