Driving home his Thoughts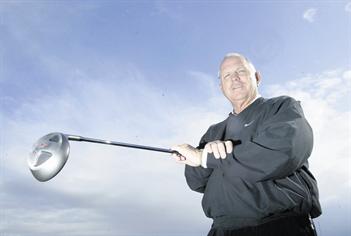 Butch Harmon has always been surrounded by money – when he was a child, his father would carry around enough notes to make a "substantial down-payment on a house".

Now, aged 65, Butch himself lives in Las Vegas, one of the most cash-oriented cities in the world, and commands $6,000 for a three-day instructional package that analyses your technique, your swing and your eagerness to spend your salary. Money is, one would imagine, far from tight at Harmon House.

And yet even Butch Harmon was in awe this week as he experienced the glitz and glamour of the UAE for the very first time.

The man behind the first academy to open at Dubai Sports City arrived aboard the Emirates A380 on which he had traveled first class from the United States. He was collected by a chauffeur-driven Rolls Royce and taken to his hotel. Soon after, when he was taken to his self-titled Butch Harmon School of Golf, he travelled by helicopter, landing, after an all-encompassing tour of the city, right outside the front door.

"I've never been here before, but they spoiled me. I'm going to make a lot more visits than I'm contracted to make – and I'm not travelling any other way," jokes Harmon, now sat comfortably in a swivelling office chair in one of the school's many analysis bays.

The bay is, essentially, a small garage: three walls and an electric roller-shutter door. But that's where the comparison ends. This is all Golf and no Volkswagen. The floor is AstroTurf, the technology cost a small fortune and the view from the open shutter-door is not a driveway, but rather a driving range.

"What we have here is technology that the best players in the world go to their manufacturers' testing centres to use," explains Harmon, who coached Tiger Woods between 1997 and 2002 and was paid $50,000 per year by the world No1 for doing so.

"We have all the technology here and now the average golfer is going to be able to do the same thing. That's what makes this place so exciting: It's made it easier for the average person to learn."

And how does the Dubai academy differ from its Las Vegas sister in the US?

"This facility is so much better than my headquarters in Vegas. It's much bigger, much grander," replies Harmon, leaning forward in his seat and resting his weight on the shaft of a Titleist wedge.
"There are more bays. The fitness bay at the end: we don't have that. The putting studio, which Claude is working in next door: we don't have one of those. In fact, I told Claude I was very jealous: he has a better facility than I have."

Claude, 40, is the director of instruction at the school. He is also Butch's boy.

"It's great because I knew I could put my son in charge and he would make sure it was the way I wanted it," says Harmon, whose own father Claude Harmon Sr won the 1948 Masters. "When I first arrived, the helicopter dropped us right on the tee out there. It was the first time I'd seen it outside of the pictures and I had high expectations of what it was going to be like, but, boy, it really exceeded those expectations.

"This is a top-five in the world. There is nothing else in this region that comes anywhere close to this.

"And when you think of the economy and you see how a lot of things have been put on hold, because we started three years ago, the timing has been perfect. If we were trying to start right now, we'd never get started."

Harmon is aware of the impact the worldwide financial downturn is going to have on the world of sport. But while he envisages tough times for golf, the one-time PGA Tour event winner, is confident the Middle East can help the game weather the storm.

"It's going to be interesting to see what happens," he says gravely, fiddling with the Titleist wedge. "I think the American Tour is going to struggle because of the economy, because of sponsorships from car dealerships and banks.

"We are in for tough times and golf is going to be no exception. We are going to struggle a little too: Golf is a leisure and the leisure dollars are going to be a little hard pressed.

"But golf has really turned into a big thing in this part of the world. You have the Abu Dhabi tournament, the Qatar tournament, the Classic here, the Race to Dubai..."

The Order of Merit, renamed the Race to Dubai and culminating in the Dubai World Championhips has caught the imaginations of golfers worldwide as they each chase a share of the $20 million prize purse.

Harmon, whose current list of coaching clientele includes Phil Mickelson, Ernie Els and Adam Scott, says the money involved is tempting golfers to travel more.

"It has really got the people in the United States excited, because it's not just a European Tour thing, it's a world event," he says.

"It's going to have a lot of Americans playing in it, it's going to have a lot of players from all over the world in it. I think that's what's really piqued people's interest.

"What you're finding, and I'm trying to instill this in Phil Mickelson, is that to be considered a great player, you have to win on all continents.

"It's important for players to play in different parts of the world and win. And the Race to Dubai is the perfect vehicle to do that."

Harmon, who is missing this week's ongoing Dubai Desert Classic due to endorsement commitments in Orlando, is adamant he will return to the emirate in time for the season-ending Dubai World Championships, to be held on November 19 at the nearby Greg Norman-designed Earth Course.

"I want to come back for the Race to Dubai, that would be fun," he says eagerly, before adding with a loud guffaw, "I just wish it wasn't taking place next door!"


On course for disaster: the three most common problems in Golf

Leave your ego firmly locked in your car

"The biggest problem we notice at the school is people's inflated self-confidence.

One of the most important things in golf is that when you drive up to the course, you leave your ego in the car.

Ego gets in the way. People think they can hit the ball over this lake and they can't. Why not hit it over there on to the fairway, then pitch it on to the green? Make a five instead of a nine.

But human nature doesn't allow us to do that. Everybody just wants to run out and hit drivers and see how far they can hit it".

Forget distance, focus on your short game

"People are too tied up in distance these days.

It's all about how far they can hit the ball.

If somebody tells you that 'if you buy this driver you can hit the ball two yards further', you will spend $500 just so you can hit the ball that extra two yards.

But people forget, 65 per cent of the shots you hit are taken from less than 100 yards: wedge shots, bunker shots, pitches, chips, putts. But nobody spends 65 per cent of their practice on their short game. That's why we have created such a big short game area here".

Be realistic and know your capabilities

'Finally, I think you have to know your capabilities. You need to know what you can and can't do. That's why I say ego is a bad thing with golfers.

We all want to hit the ball like a tour player and hit it far, but we have to be realistic. If you are hitting off an 18 or 20 handicap and you are playing a par 72, your par is not 72, your par is 90.

So if you shoot under 90 that is a great round. Likewise, if your handicap is 18, there is no point saying, 'In a year I want to be scratch'. You may have an itch and scratch it, but you won't be scratch".
.
Follow Emirates 24|7 on Google News.