Emirati key to soaring interest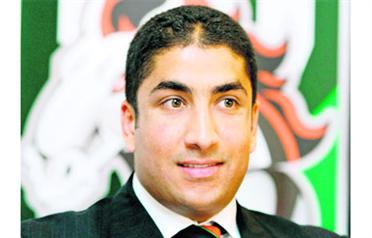 The fact that Mohammed Rahma, a UAE national, was in contention for the Arabian Gulf Rugby World Cup Sevens squad, signals a marked improvement for the game's future among the local population.

According to the figures announced at yesterday's team unveiling, some 16,124 local Arab-speaking school children played rugby in the past year – 6,833 of them girls. And, quite naturally the player, who was overlooked due to a knee injury, feels aggrieved he couldn't be a role-model for them at the March 5-7 tournament.

"I was really working hard and looking forward to the World Cup, but my knee is not right," said the 21-year old, speaking at the Sevens Ground after the team was announced.

"I was really disappointed because I wanted to be a figure for UAE nationals, but unfortunately I can't do that right now.

"I want to show that we [Emiratis], even though we started playing rugby late, still have talented players who can do the sport.

"I also wanted to show the [local] people how good the sport is, because if I made the team then it would get publicity and people would be asking more questions. And that's how we can attract more UAE nationals into the game – by having someone as a role-model, someone who represents their country nationally."

Ghaith Jalajel, development officer for the Arabian Gulf Rugby Football Union, says, "Thanks to the high profile of the Dubai Sevens tournaments, the local population now perceives the sport favourably and more teams than ever are taking part.

"I have been in this job for four years now and I have been to many schools," said the Jordan-born Jalajel. "I'm pleased to say that things have changed from when I started. At first it was all negative, but now people are willing to give rugby a go.

"We have better publicity now so people are more aware and they are more receptive of trying a new game.

"In the next school year we are going to combine the Arabic schools to play in a league. The expat schools already do it, but we want to use these numbers [of participants] and do the same for them as well as for some of the higher colleges as well."
Follow Emirates 24|7 on Google News.