Faldo course lights up opportunities for night golf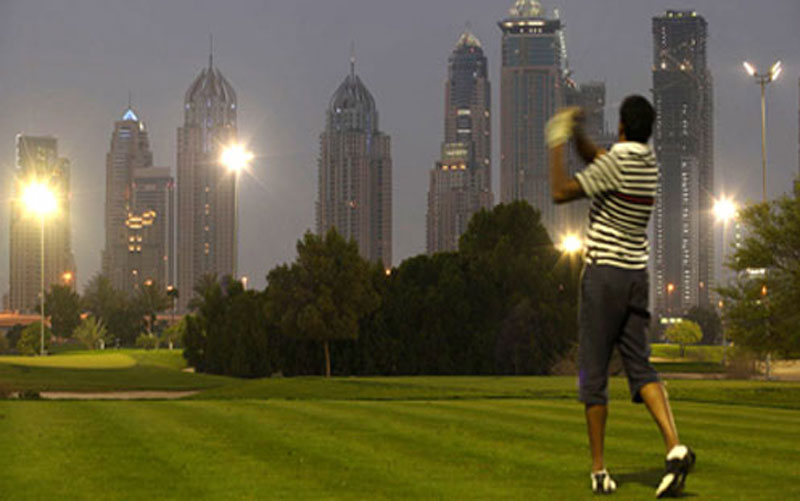 Playing a round of golf in the night on a championship course even during the summer is now possible as Emirates Golf Club officially unveils the only fully floodlit 18-hole course in the UAE today.
"This is a world-class installation. It is as good if not better than most. It took about 16 weeks to complete and we had to pull out all stops to have it ready," said John Anthony, Export Sales Director of the United Kingdom-based Abacus Lighting who were entrusted with the lighting project.
The Wadi course which was re-designed by six-time Major winner Nick Faldo in 2005 will be open to the public and members alike to play 18 and nine holes.
"Night golf has the potential to revolutionise the game within the UAE. Typically work constraints and limited tee off times means securing a round on a quality course in Dubai is a constant challenge. But with night golf we hope to make golf more accessible and bring the enjoyment of the game to more people, especially in the summer months for those wishing to play in the cooler evenings," said Club Manager Andrew Whitelaw.
"It has many advantages. Visitors who come here during summer months could not think about playing golf during the day when temperature rise to 40. It's almost impossible. In the evening it is pleasant and comes down to low 30s so you can play golf from six till midnight," said Anthony, who has over three decades of experience in the business of lighting.
"The revenue stream that it brings for the clients is huge. They would able to collect green fees that they would never be able to do when it gets dark at night. It means people can pay to play at night. Restaurant facilities are available whereas normally you switch off at six. Now business could continue until late into night," said Anthony, who has been involved with sports floodlighting installations throughout the world, including for last year's Twenty20 World Cup in the UK.
"Night cricket is something we are really quite famous for. We did the floodlights at Lord's, The Oval and Trent Bridge for the Twenty20 World Cup," said Anthony who is excited by the upcoming projects for next year's 50-over World Cup to be held in the Sub-continent having won the bids for the National Stadium in Bangladesh and the venue for the final – Mumbai's Wankede Stadium.
The Nad Al Sheba horse racing track was one the largest floodlighting projects ever undertaken by them anywhere in the world. "It had something like 2000 floodlights and 30-40 towers," he said. The Sevens complex was another.
Nottinghamshire-based Abacus has been associated with golf courses in the UAE since lighting the driving range and training ground for Dubai Creek and Golf Club 21 years ago followed by the old Nad Al Sheba golf course. But he ruled out the possibility of staging international golf tournaments under lights.
"For cricket in Trent Bridge we installed 2,500 bulbs. That's where the high definition cameras will work with each lamp is emitting two kilowatts of energy. We have high-definition installation at The Sevens rugby ground. As for golf, you could never have that because you will need masts all over the place" he said.
The design has also taken into consideration energy conservation. "The lamps in a floodlight, any lamp for that, when it is first switched on generally works 20 per cent above its expectancy.
We got a system where we can reduce the amount of power. We estimate 14 per cent in savings over the next 10 years, which is about three and half months of play," he said.
Follow Emirates 24|7 on Google News.