Horsing around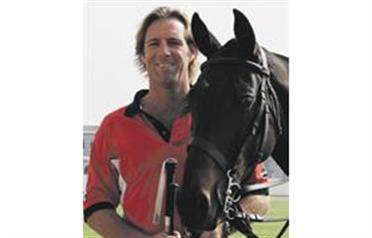 Steve Thompson, 40, has been playing polo for 22 years and moved to the UAE four years ago to open the Dubai Polo Academy. Located at the Dubai Polo and Equestrian Club, the Briton and his team train hundreds of people every month. Thompson, who recently introduced camel polo to its portfolio, gives Emirates Business an insight into the game.

How did you get into polo? I've always ridden but started professionally at 22 because I had a normal job but realised I didn't want to do that forever. Polo was much more fun so I gave up the day job to do this and like many players, travelled around the world from Barbados to Argentina, Australia and New Zealand, among others to find a circuit. I had a yard in Windsor Great Park in England but sold it two years ago.

Can players make a good living from it? I make a good living. It's a glamorous lifestyle going from country to country playing but teaching is quite different, especially when you're dealing with egos. But horses are expensive and that's why polo is expensive to play – horses have to earn their keep as a season only lasts six to seven months but they have to be looked after for the full year.

Is it true that it can open many doors, especially for those in business? I've had people, especially in the UK, who run finance companies who called me to train their new recruits so they can mix in that world. It's one of the few sports where you have the super rich so if you're committed and have things in common with how you play the game it can create a bond so it's great for networking.

What is your top tip for people wanting to play? You need to be able to commit. Riding is 90 per cent of the game so unless you commit to learning to ride well you're not going to be able to play well in a game.

What's the inspiration behind camel polo? When I came here I wanted to get camels because it's a tourist destination and people want to ride them. But local companies can't keep taking clients to the Burj Al Arab or to the desert and if they want to win business they have to go that extra mile. Some companies are starting to drift to other countries in the region to entertain clients so this is helping to put Dubai on the map again. It's also good fun and helps to eke out personality traits between colleagues.
Follow Emirates 24|7 on Google News.