'I'll cut off his head with my foot'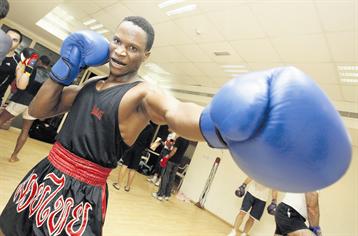 Al Hassen Okane works on a construction site in Al Quoz producing the infrastructure for Dubai's high-rises.

Yet it is the Ghanaian's 16 years of training in taekwondo that will act as solid foundations as he looks to fufill his quest and become WKBF World Welterweight Kickboxing champion tonight.

The 28-year-old will undergo a metamorphosis of mega proportions when he goes from Unknown Okane to "Ghanaian Van Damme" in the ring at Chi – The Lodge.

Okane received a late call following the withdrawal of Richie Commey and will headline this evening's 10-bout showcase as he steps into the ring to face Australian champion Von Badato.

"I don't know anything about him," concedes Okane, taking a break from a sweaty sparring session to speak to Emirates Business. "I only found out I was replacing Richie this week, so if I knew I was fighting, I would have trained much harder.

"But I will still win. I predict in the second round, by way of knock-out."

Okane has good reason to be so cocksure: His last bout, in November, resulted in his opponent – despite a 20kg weight advantage – hitting the canvas in the first round with a broken jaw.

"I feel sorry for hurting my opponent because at times you remember that it could just as easily be you," admits a refreshingly honest Okane.

"Kickboxing is a game of chance; one little mistake and you can end up on the ground. I have never lost, but if I lose, I lose. I will just get up, get on with it and come back stronger."

Born in the Ghanaian capital of Accra, Okane moved to the UAE three months ago after securing a job with a local construction company. He reveals that, while working strenuous shifts, he still finds time to train in a bid to realise his dream of becoming a world champion.

"All of the fighters involved in [tonight's] event work full-time jobs as well as train, but after work we are very tired. But I am committed to my dream and push myself," he says, balancing a black mouthguard between his blue boxing mitts.

Okane goes on to reveal a three times a week training schedule that puts the general gym-goer to shame.

After rising at 6.15am, he runs from his home in Al Quoz to nearby work, where he completes an 11-hour shift. At 6pm when he clocks out, he runs to the gym of trainer Zack Taumafai in The Greens and spars for "two or three" hours before running back to his home in Al Quoz.

"I want to be professional because then I won't be so tired, but for now all I can do is run and train three times each week," he adds.

Okane began training with Taumafai after his last fight and says he is already starting to notice the difference – especially in his upper body speed and strength.

"I've been doing taekwondo for 16 years so kicking is no problem for me," he says. "But the problem I had was in my hands, I was not fast enough. I would block with my hands and get caught with a kick. Now, with Zack, I am better."

Okane reiterates his belief that tonight's bout will last less than six minutes, revealing a no-longer secret plan to emerge victorious.

"In the first round, I will study his approach, his movements and his strategy," he says, before adding sadistically his plans for round two. "Then I will begin my plan – to cut off his head with my left foot. I am a right-footed fighter, but my left is my secret weapon."

At least, it was his "secret" weapon. 

- KO3: Blaze of Glory takes place tonight at The Lodge. First fight starts 7.45pm. Tickets start Dh150.
Follow Emirates 24|7 on Google News.