Lifestyle of the polo pro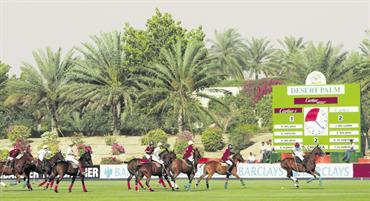 As images of royalty grace the pages of glossy magazines on a regular basis, polo has cemented its image as an upper class sport. With the rich, and famous, gathering in marquees in Windsor, near London, in Houston, Texas, or Buenos Aires in Argentina, the noble game has reached every corner of the world.

And the story is no different here in Dubai where the city's third polo development is under construction hoping to tap into this lucrative market.

The two more established clubs – Desert Palm and Dubai Polo and Equestrian Club (DPEC) – are growing year on year as more people choose to get involved in the sport of kings.

Steve Thompson, who runs Dubai Polo Academy says: "We're putting through 200 to 250 people a month, which is extraordinary for a polo academy as you normally do about 50."

The costs involved means polo is out of reach for many with annual spending between $10,000 and $10 million (Dh36,700 and Dh36.7m) depending on the number of horses owned. Keeping just one horse runs into a five-figure sum between stable fees, food, vets bills and general upkeep. Each player also requires four or five horses per game due to its intensity so keeping enough animals for a team soon adds up.

But as one player at Desert Palm explains, they do it for the love – it's not about money.

"It's an addiction," says one Desert Palm player, who preferred not to be named. She started two years ago after a long time in equestrian and now plays six days a week.

Even so, those running the clubs say access to the sport is very inclusive in the UAE.

"Polo is a very accessible and social sport that ranks alongside Formula One and Wimbledon that people like to aspire to," says Peter McCormack, Director of Polo at Desert Palm, which has a professional team in the European circuit.

"If you go back 15 or 20 years, it was an English gentry sport but access is now open to anyone with passion. You don't have to have a full team or 10 horses, we encourage anyone to try it."

But it is not just bills for the animals but club membership that pushes up the cost of being involved. With annual single fees at DPEC costing Dh25,000 plus a Dh10,000 joining fee or Dh45,000 all in for couples, it is much higher than joining a gym, for example.

But although getting started can be costly, the initial investment can pay off and the sport can be financially lucrative through sponsorship and individuals paying players to participate in their tournaments.

"In the Middle East, the sport is looked on as financially viable with some people making lots of money from it," says Philip Grant, the General Manager of Dubai Polo and Equestrian Club.

"It costs a fortune to maintain the grounds in this part of the world so the polo side never makes money – the club and sponsorship bring in the money. If we didn't have it, polo would still go on, but the corporate side raises the quality," he adds.

Players say the sport is different in Dubai compared to other places around the world.

"Because it's still a new sport here it's more inclusive and not as competitive as say the United Kingdom or United States where there are more professionals and cup competitions," says one, who has played for 20 years.

Desert Palm is different from many clubs because it is a privately run enterprise. It is also the world's first polo resort thanks to the opening of the on-site hotel and spa last March. There are four fields, including the showcase located at the back of the hotel, allowing guests to relax by the pool or on the terrace while watching a chukka (section of a game). Matches are played every day with people from all walks of life turning up to get in the saddle.

"Once you're introduced, there's only two ways you stop playing; if you go bankrupt or die," says McCormack.

Anyone who has seen Pretty Woman will recall the scene where Julia Roberts and her fellow spectators run onto the pitch between chukkas to replace the grass, but Grant says it is more than simply entertainment.

"Stomping the divot serves a very valuable purpose because the ground becomes dangerous when the horses turn it up. It's become one of those social things that everybody does but there is a reason behind it," he says.

Attracting more spectators is an ongoing challenge for some clubs, but open events are spurring interest. DPEC has regular matches where many make a day of it.

"We have a huge range of people watching from families with a picnic on the pitch to those who come to see what it's all about," says Grant. "It's one of those things like the theatre, some people get very togged up whereas others just wear slacks – anything goes but that's the great thing about the horse world – it involves everybody and you can get into it at any level."

Clubs in the UAE have permanent clubhouses, unlike in other countries where temporary marquees are used instead, but they are a vital part of commercial success.

With homes built either overlooking pitches or across the road, enthusiasts can also indulge their passion almost in their back yard but not many people can live the true "polo lifestyle", say the experts.

"While some people do live the jet-setting polo lifestyle, only a few can actually afford it and they are the upper classes but even if they can afford it, people like Prince Charles and Prince Harry, pictured below, still go round in their wellies and muck out their own horses.

"That's the horse world – we get dressed up and make a nice social event of it and that's what people see but it's not the whole story."


Getting started

1. Some people start in equestrian, while others get straight into polo. Private lessons at Dubai Polo Academy start at Dh700.

2. Learning to swing the mallet is vital to avoid hitting the horse.

3. Players need to master the rules as they put the first two points together.

4. Polo players wear traditional trousers but beginners are fine in sportswear and a t-shirt.

5. Some players hire horses for games, but those who want their own need to consider stable costs and hiring a groom for day-to-day care.
Follow Emirates 24|7 on Google News.