Moneymen give $1m thumbs up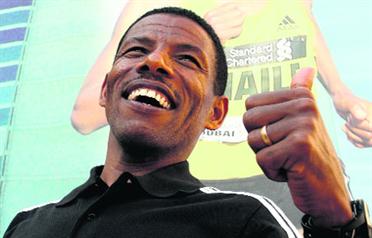 You know the credit crisis is global when Haile Gebrselassie is suffering – albeit with his ubiquitous smile on show.

The Ethiopian athlete will compete in today's Standard Chartered Dubai Marathon in a bid to break his own world record and pocket $1 million (Dh3.67m).

But the 35-year-old, who has broken 26 world records and boasts of an investment portfolio that includes hotels and real estate, will use the world's richest road-race as a means of escapism as he fights the worldwide financial downturn.

"The best treatment – the best medicine for a stressed businessman is running," said Gebrselassie, who broke the marathon world record in Berlin in September with a time of 2.03.59.

"If you are always thinking about the problems, then you can't sleep because you are scared of what you will dream about. That is why I run and that is why I am always happy – even though sometimes I suffer because my businesses are losing money."

Despite the downturn Dubai Holding is, for the second successive year, offering $1m in prize money and an additional $1m bonus for any athlete who breaks the world record. And it is as keen to award the money as Gebrselassie and his peers are to win it.

The race course has been moved to the Westin Mina Seyahi and is now one of the straightest and flattest marathons on record. Gebrselassie who, four months ago clocked a time of less than two hours, four minutes, is the top male entrant. And Khalid Al Shafar, marketing manager of Dubai Holding, said the company is "hoping to present the money so we can show our support to the athletes".

Peter Connerton, the event director, said, regardless of the current financial climate, Dubai Holding's monetary pledge was never in doubt and added he is confident the finances will continue to be on offer so long as the marathon runs successfully.

"Of course the credit crunch is there, but the world isn't going to stop turning," said Connerton.

"Banks and businesses still need to promote themselves and there might not be as much sponsorship money there, but you just need to make sure you are getting your piece of the sponsorship pie and put on a performance, because at the end of the day, you still have to market your products and businesses.

"The money is there indefinitely. So long as we do the job, the money is there. It will not go down. If somebody else puts some money in, it could go up."

This year marks the 10th anniversary of the Dubai Marathon and the registered runners for the three separate road races – 3km, 10km and 42.2km – have increased 10-fold to more than 10,000 participants.

Although Connerton is quick to admit the event does not attract the same amount of participation as other international marathons – New York had 37,850 finishers in 2006 – he is adamant that, so long as Dubai keeps growing, the race will continue to develop.

"The marathon is growing every year. So if the population grows to 10 million then we will get the mass participation," he said. "But there is always something you can improve on – not just the race itself.

"I travel to many other marathons – New York, Boston, London – to see what they are doing and you take a little out of their book.

"We may not have the mass participation that they have, but we have the opportunity to provide something a little different: better weather, nicer hotels, better facilities for the athletes…

"Athletes talk and without the athletes you don't have anything."

What Haile Gebrselassie will be talking about this afternoon having completed 42.2km remains to be heard. But, having escaped reality for a couple of hours, you can be sure it won't be about running – his businesses.
Follow Emirates 24|7 on Google News.