'Race not just about money'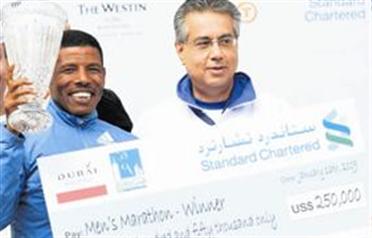 Haile Gebrselassie may have missed out on the chance to pocket $1 million (Dh3.67m), but the Ethiopian says the Dubai Marathon is about more than just money.

The 35-year-old walked away with $250,000 after winning the 42.2km race with a time of 02:05:29.

But the result was 90 seconds slower than his world record 02:03:59, meaning the $1m bonus prize went uncollected for the second successive year.

Gebrselassie says a sudden downpour during the final 8km straight was to blame for the failed bid.

"Everybody expected me to break the world record," he said. "But regardless of whether I did or didn't, I'm really very happy to record this time. This is my best time in this type of weather.

"The last part of the race was too rainy, but what can I do?"

Gebrselassie won the event in 2008 and he says there is more to the world's richest road-race than just a $2m prize purse.

"If you think about money first you cannot run," he said. "If I come, people think I need the million dollars, nobody thinks about the race. I've missed a million dollars by one second, in Atlanta. For me this is not unusual.

"The race for me is not about the money. If I break the record, the record is worth more than a million. I can make money anywhere.

"The race was fantastic and the whole organisation was perfect: the course is perfect and everything else is perfect. But small things happen and the rain and wind made it difficult."

Gebrselassie added that he knew after 22km that the world record he set in Berlin four months ago was not going to be broken in the emirate yesterday.

"When I turned back at half-way, the wind came into me and I saw the clouds. It looked difficult," he said. "Sometimes it's not just about defeating time if you defeat yourself first. When I saw the rain I think I defeated myself."

Event director Peter Connerton says he hopes to welcome Gebrselassie again next year and the Ethiopian refused to rule it out.

Meanwhile, making it an Ethiopian double, the diminutive Bezunesh Bekele won the women's marathon with a time of 2:24:02.
Follow Emirates 24|7 on Google News.