Salute to the greatest swimmer ever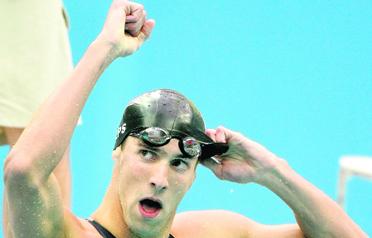 After a four month sabbatical, hundreds of interviews, photo shoots and television appearances, Michael Phelps finally returned to a familiar setting this week as he plunged back into the pool to begin a rigorous training routine.

The American swimmer achieved the ultimate prize in Beijing last August when he not only left the public in awe, but left his peers speechless by becoming the first person to win eight gold medals at a single Olympic Games.

Those performances bettered compatriot Mark Spitz's record of seven at the Munich Games in 1972 and took his career tally to 14 gold medals – the most won by any Olympian in history.

Among his many admirers is former Australian great Kieren Perkins, who dominated long-distance swimming in the 1990s, winning gold at the 1992 and 1996 Games in the 1,500m event. He says that no compliment is too extreme for Phelps.

"It was extraordinary," said Perkins, who was in Dubai recently as a guest of the Australian Business Council. "I think when Mark Spitz won his seven gold medals back then everybody said it could never be done again, that Spitz was just a freak and that his time in history was extraordinary and we will never see it again.

"Yet here we are after the Beijing Olympics and Phelps has won eight. That is testament to his skills, self belief and will to be able to get through a meet like that and come through on top. It was amazing.

"We sometimes rush to compliment our athletes on their achievements, but I think we can be pretty confident that after the Olympics Michael Phelps has confirmed he is the greatest swimmer of all time and he richly deserves all the plaudits."

The scary fact about Phelps is that he is only 23-years old and is preparing for the London Olympics in 2012. He could also swim in another Games after that meaning, possibly, his career could stretch for eight more years – definitely not news his rivals would want to hear.

Even worse for his competitors is his plan to take on more disciplines to "challenge himself", which could turn away many aspiring swimmers from the sport. However, Perkins disagrees.

"Look, I'm sure there will be some athletes who had aspirations of going to the Olympics now that will be very worried if they came up against Phelps, he will be too hard to beat," says the three-time Olympian with a laugh. "But, it will also motivate others to want to beat the greatest of all time and that will certainly be a great thing to achieve. Nobody is impossible to beat and everyone is beaten at some stage."

Before Phelps' amazing achievements, the biggest swimming story of 2008 was the Speedo LZR Racer swimsuit. The costume, developed in association with Nasa, created controversy when it was launched using materials that rival brands did not know they were allowed to utilise.

Swimmers using the revolutionary suit broke records frequently in 2008 and by the end of the Olympics in August, 62 world records were bettered by swimmers wearing the LZR Racer model, while 94 per cent of the winners at the Games sported the suit.

Considering Spitz set his records in 1972 wearing nothing but Speedo briefs (not even a swim cap), the debate on whether the swimmer makes the suit or suit makes the swimmer is an interesting one.

"The biggest change from when I was swimming is probably the technology in our sport," says Brisbane-born Perkins, who holds an Order of Australia medal. "When I swam, it was just all about training and technique and that is what we focused on in most of the events.

"Now we have seen in the last decade or so the development of the body suit, which has made a real change in the focus of the sport. In Beijing, the Speedo Lazer really created a visible difference between athletes who didn't wear them and athletes who did, and who thus benefited greatly through the technology of the costume.

"It's something which changed our sport and caused a bit of controversy and will continually be talked about in the near future, and that by far is the biggest change in the sport since I was swimming."

While Phelp's rivals may fear him, Perkins says that swimming needs role-models like the American to help its image and bring more people into the sport.

"I think, without a doubt, having a superstar like Michael Phelps will benefit the whole sport immensely," says the 35-year-old, who in 1994 broke the world records in the 400m, 800m and 1,500m freestyle events at the Commonwealth Games.

"There will be many young children who may not have been interested in swimming that have seen him perform in Beijing and that are getting involved in swimming and starting training.

"The thing about sport is, it's not about the elite athletes. Sport evolves and continues to go on through the involvement of coaches, officials, volunteers and all those grassroots athletes who don't have great aspirations to be Olympians, but just love to be involved in a sport.

"When you instill that level of passion into a sport it ensures its survival for a long period of time. I really believe superstars reinforce that message and they really secure the future of our sport by attracting more and more people to get involved."
Follow Emirates 24|7 on Google News.