Sevens steps to success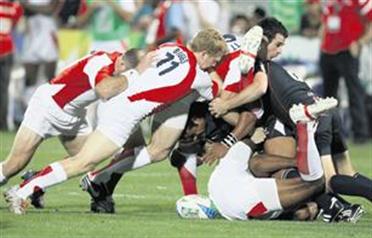 Lawrence Dallaglio, the former England star, says sevens rugby is the best route to success for potential stars of the 15s game.

The 36-year-old, who is at the Dubai Rugby World Cup Sevens tournament as Emirates airlines' first global sports ambassador yesterday, began his career in the sevens form.

"Playing in sevens was fundamental for my career and it's the same for this young England side," said Dallaglio, who was part of the England team that won the inaugural Rugby World Cup Sevens event in 1993.

"While they are not household names in the world of 15s yet, this will be confidence-building for them.

"We talk about a lack of confidence and belief in a team, but playing sevens and winning in places like Wellington – it took me my whole career to win there – is a real confidence builder for any young side.

"There is no reason why these players cannot go on and be very successful.

"When I played at Murrayfield [in 1993] it was against the likes of Waisale Serevi [Fiji], Eric Rush and the New Zealand team. The final was against Australia, who had David Campese.

"Apart from the front five, I would have every player playing sevens at some stage of his career. I think it stands you in great stead – if only our 15s side team was as fit as our sevens team."

England, who are joint leaders alongside South Africa in the IRB Sevens Series, are one of the favourites here. They won the Wellington tournament, beating New Zealand 19-17 and reached the final in San Diego last month.

However, Dallaglio believes you can never predict a winner in sevens.

"I'm very hopeful of England's chances, but the wonderful thing about sevens is it can turn on a knife edge. You can be the best team and not necessarily win and I think that's what creates the excitement among the spectators," he said.

"You've got the more established teams like New Zealand, South Africa, England, Fiji and Samoa and the like – and there is no doubt that the winner of this tournament should come from one of these teams. But if they don't turn up on the day, the likes of Argentina and Kenya can cause an upset."

Dallaglio says maintaining focus for the entire match is crucial if a team is to progress.

"If you get it wrong, you can score in the last few seconds of a game, as England proved [in Wellington].

"They looked dead and buried at half-time and New Zealand probably thought they had the game won, but back come England to score with the last kick of the game and win the tournament."

Since 1993, Dallaglio has gone to lift the Webb and Ellis trophy at the 15s Rugby World Cup tournament and is now a proud holder of an OBE. Coming back to his roots with sevens, he says he is impressed at how much the game has developed since he played.

"The game has certainly changed," said the player, capped 85 times for England. "What has impressed me is the physicality, pace and it has got a lot more tactical.

"Sevens breaks rugby down to its rawest forms really. You have to be extremely fit and you have to be able to tackle. Tackling becomes paramount and you can't have any weak tacklers on a sevens team.

"All the basics you are taught as a young lad are brought to the fore in the sevens game."
Follow Emirates 24|7 on Google News.