Silent Pumas primed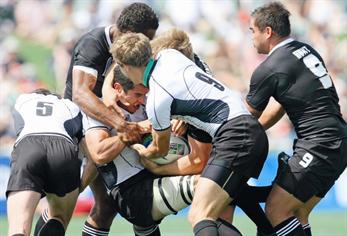 Despite winning the last IRB Sevens series in San Diego last month, Argentina returned to their reclusive state going into this weekend's ongoing IRB Rugby World Cup Sevens.

In 2007, Argentina's 15s team, with little hype and even less fuss, finished third at the World Cup and this weekend, once again, the Pumas entered the fray quietly but efficiently.

While the glamour sides such as South Africa and New Zealand laboured through their group matches, Argentina looked impressive and record try-scorer Santiago Gomez Cora believes they have peaked at the right moment.

"Although we have a very good team, we are not the favourites. We need to work hard in all our games," said the fullback, a scorer of more than 200 tries.

"We have been working very hard in the physical areas, but the most important thing in sevens is the experience and we have the same team from two years ago, so it is the perfect moment for us to play the world cup now."

Among Argentina's admirers is New Zealand's Gordon Tietjens, arguably the most successful sevens coach in history. He believes the reason why Argentina don't steal the spotlight is down to their lack of individual personalities.

"They are very good in kicking the ball, you have Gomez Cora out there and they are brilliant in contact – you can't over commit in the ruck because they'll cane you," he explains.

"They are a very smart side and have a good coach who has used consistency in his selections. They are a good team, but without any real stars because they play and work for each other."

Off the field, after a SANZAR (South Africa, New Zealand and Australia rugby) board meeting in Dubai yesterday, it was revealed Argentina could join the Tri-Nations in 2012.

Winning here in front of the chairman of the three boards would certainly help achieve that.

Yet, Cora disagrees: "It's always good to win tournaments because we are shouting to be part of the Tri-Nations – but it doesn't depend on the results to get included."


'Referee Ruined gulf glory'

Arabian Gulf coach Mike Lunjevich was left seething as a "referee error" cost his team a last minute try in their 17-19 loss to Italy – their final group game. Earlier in the day, the home team had been beaten 41-5 by New Zealand. "It's disappointing it came down to the interpretation of a referee to decide the game," said Lunjevich. "When the referee looks back at that last 40 seconds I think he will be disappointed."
Follow Emirates 24|7 on Google News.