Simply the best? A big yes, says Canada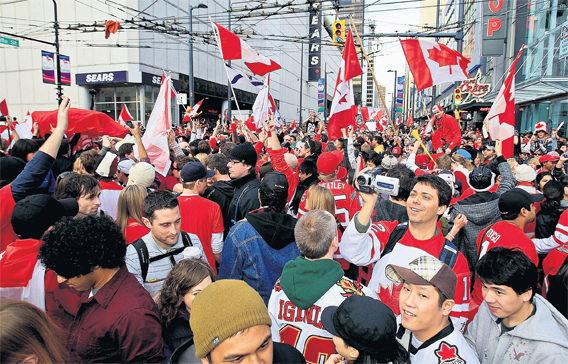 Canadians awoke to something new on Monday, a strange feeling they could compete with the big boys and feel good about it.
As the flame went out on the Vancouver Olympics on Sunday, Games chief John Furlong told a cheering crowd: "It was time to look at the Canada that is and not the Canada that was."
These had been wonderful and weird times for Canadians, 17 super-charged days that shifted the national identity.
They went to bed on Sunday knowing they just won more gold medals (14) in a single Winter Olympics than any country ever and, well, are not quite sure exactly how to react.
After all, celebrating gold on home soil was something quite foreign for Canadians who have twice before staged Olympic Games and played the perfect hosts by not actually taking any gold medals for themselves.
Having watched their bigger, brasher, richer American neighbour to the south wave the flag at every opportunity, Canadians quickly caught on to the idea and hooted and hollered but then asked if they were being too loud or bothering someone.
The burst of pride felt good right down to the soles of their Canadian Sorels and they filled the streets of one of world's most liveable cities for a two-week party.
They boldly claimed to Own the Podium and then apologised for it.
But as always, it is on a small sheet of ice where Canada defines itself and the image it wants others to see.
An overtime victory over the United States in the men's ice hockey final, with Sidney Crosby, known to Canadians as 'Sid the Kid', scoring on Sunday to give the home team the gold coveted more than any other and galvanised a country.
It is, at its heart, just a kid's game but one which still has the power to pull a country together.
The sport is part of the national identity, a rite of passage between fathers and sons and more recently mothers and daughters as the game evolved beyond its traditional gender boundaries.
A scene of children playing pond hockey can be found on the Canadian $5 bill while a lucky Loonie (Canadian dollar coin) which was secretly buried at centre ice at the 2002 Salt Lake City Olympics where Canada ended a 50-year gold medal drought, is a national treasure housed in the Hockey Hall of Fame.
A contradiction of graceful skill and brutal violence, that seems to run counter to Canada's modest, polite image it is at the hockey rink that the words "please" and "thank you" are never spoken. "We like to think this is the image the world has of us as some industrious team like cooperative, strong, resilient, victorious, magnificent and most of all humble victors in hockey," Roy MacGregor, one of Canada's most respected hockey writers and author of several defining books on the sport, said.
"It's the image we have of ourselves and what we wish the world would see when they look upon boring old Canada.
"The only time I have seen Canadians absolutely swagger is when they are winning at hockey." (Reuters)
Keep up with the latest business news from the region with the Emirates Business 24|7 daily newsletter. To subscribe to the newsletter, please click here.
Follow Emirates 24|7 on Google News.