Sponsors offer shelter from the Storm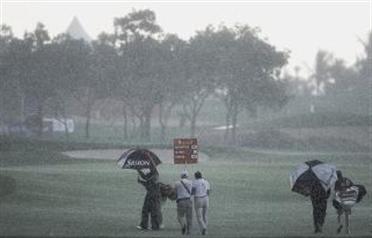 A walk around the newly designed hospitality pavilion at the National Course's 18th green would cause you to question the current worldwide financial crisis. Billboards hosting the names of prominent event sponsors such as Etihad, Standard Chartered, Rolls Royce, Rolex and Xerox stand in defiance to the global downturn that has seen leading banks and distinguished car companies feel the squeeze.

Golf, in Europe at least, seems to be bulging at its belt buckle and appears almost immune. The inaugural Race to Dubai, worth $20 million (Dh73.6m) in total prize money, reinforces the sport's sound financial foothold. The players, of course, are paramount to that success too.

"Golf tends to be very specialist," says Peter German, Tournament Director at this week's Abu Dhabi Golf Championship. "And the great thing about golf sponsorship, unlike in any other sport, is that you actually not only have your brand name on the television coverage and the golf course, but you can also play with the players.

"There's no other sport where sponsors can actually rub shoulders with the main players. Take [Wednesday's Pro-Am], Sergio Garcia is the world No2 and there are four business guys out there playing with him.

"You can't do that with tennis; you can't play a set with Federer. Or you can't play a soccer match with David Beckham, so that is what's unique about golf and it's a huge incentive. It's a money-can't-buy thing."

In contrast to other flagging sports, golf continues to bring the big hitters to the table. Last year, despite the PGA Tour experiencing problems with sponsor and tournament retention, North American-based companies spent an estimated $1.36 billion on the game, a nine per cent increase from 2007.

And although General Motors ended its nine-year association with Tiger Woods, the world No1 and arguably the most recognisable face in sport, 12 months early last November – reportedly saving GM $7m in the process – other companies continue to sign up top professionals on lucrative contracts.

Last month, FTI entered into a three-year agreement with Padraig Harrington, the triple Major winner, in what was described as the biggest individual sponsorship deal in history for an Irish sportsman.

The tie-up is rumoured to have cost the international consultancy firm €12m (Dh58m), a premium price regardless of the prime-position branding it will attain on the front of the reigning British Open champion's cap.

The 2008 PGA Championship winner had also just renewed his deal with Wilson the previous month, believed to be worth a further €10m until 2011. Add that to his extended relationship with Kartel, the clothing company, and his endorsements with Hi-Tec shoes, Titleist golf balls and U4EA technologies – the 37-year-old exemplifies golf's business appeal.

However, while firms may be spending millions to tag the stars of the sport, German, who has acquired a number of local companies to partner the Abu Dhabi Golf Championship, admits he has noticed an air of cautiousness from sponsors when they have come to the tournament's negotiating table.

"It's very early days yet, but [the current economic crisis] is having an effect and it's going to have an increasing effect as well," predicts the Englishman. "It's difficult for companies to be seen spending a fortune on promoting a golf tournament when they're laying-off people and downsizing.

"Having said that of course, it is still important to promote your company, services or goods in a recession and companies will continue to do so because, if you claw back on your advertising, your brand will die.

"I'm not saying it's easy with golf, but I do think the sport lends itself to sponsorship. Even in today's world, where it's very competitive and a lot of people are cutting back on it, golf can attract a different sort of target market: the more affluent, higher income type. But, then again, without sponsorship, professional golf wouldn't exist."

However, top golfers seem to realise that player and sponsor symbiosis will protect their already burgeoning bank balances. Henrik Stenson, in the capital this weekend hoping to add the Abu Dhabi title to complete his Desert Swing set, believes established associations, such as the one he shares with clothing sponsors Hugo Boss, are key to negating the knock-on effects of the credit crunch.

"It's always important to have good relationships with your sponsors, and preferably long-term ones so both parties can get as much out of it, especially as it's going to be more difficult to find potential partners in these tougher times," says the Swede.

"If you've a couple of years together already, then that's obviously going to be of importance when you're up for renewal. The world's financial crisis is going to have an impact on the tours, but I think golf tournaments and players are still a strong product.

"There's going to be the odd tournament dropped because of that reason, yet overall we'll have a strong tour and strong relationships, both on an individual basis and as a tour."

And the Dubai-based world No12 insists the Middle East represents a viable arena for developing a more productive sponsorship portfolio. Already working closely with 'golf in Dubai' – his golf apparel also sports the logos of Boss, Delwood Consultancy, Stanford Financial and Srixon – Stenson expects the region to continue to be a main player in today's golf market, highlighted by the record-breaking Race to Dubai.

"The region has grown well and I think it will continue," he says. "Obviously it's going to slow down a little bit, but it's still potentially a very good place to find new partnerships and to be able to build on the ones that already exist."
Follow Emirates 24|7 on Google News.