Sport gives card companies credit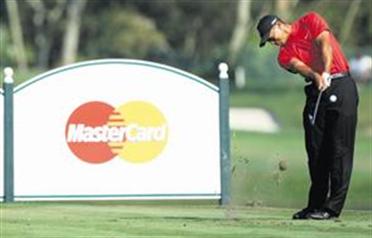 The world may be in financial crisis, but two sports remain defiantly unaffected, especially in the UAE.

The country will take centre stage in both golf and football during 2009 as the Dubai World Championship arrives in November and the Fifa Club World Cup takes place a month later.

It is little surprise then that ailing banks and businesses are looking to the region to boost revenues: Royal Bank of Scotland, ahead of the inaugural Abu Dhabi Grand Prix, recently launched a Williams F1 credit card.

Visa, which is the financial services partner for Fifa, has chosen to target the UAE's most popular sport, football, in a bid to strengthen its position in the region.

The credit card giant is showcasing the Fifa World Cup trophy at The Dubai Mall this weekend in an attempt to draw attention to its sponsorships of the event.

"First of all, Visa believes in the outlook and investment in the Middle East and being here as a key player," said Norliza Kassim, Visa's Head of Regional Marketing for Middle East and North Africa.

"We also believe in the passion that football evokes among people here in the region, and among card-holders. This is our way to tap into the sport's huge popularity.

"In 2007, we signed a master agreement with Fifa to become one of the key six sponsors across the whole array of Fifa properties, which includes the World Cup and the Women's World Cup.

"There are also very important Fifa events taking place this year in this part of the world, such as the Fifa Under 20s World Cup in Egypt, the Beach Football World Cup in Dubai and the GCC Champions League.

"Football is the passion in this part of the world and we want to be a big part of that."

Meanwhile Visa's rival, MasterCard, is also intensifying its sports sponsorships in the country, but is focusing on golf rather than football.

The multinational corporation announced a deal this week that will see it become official sponsor of the Dubai Desert Classic, which gets under way this month.

The agreement will last two years and will see MasterCard become the "official method of payment" for the $2.5m (Dh9m) European Tour event.

"Sponsorships are a critical component of an overall integrated marketing mix for MasterCard globally," said Denzel Lawson, General Manager, Middle East and Levant, MasterCard Worldwide.

"By associating with and leveraging leading properties and events around the world, MasterCard is able to create business-building opportunities for its customer financial institutions as well as offer valuable benefits to its card-holders around the globe.

"As Dubai continues to evolve as a leading golf haven, we are delighted to collaborate with golf here to bring card-holders closer to the game they love."
Follow Emirates 24|7 on Google News.