Sports odds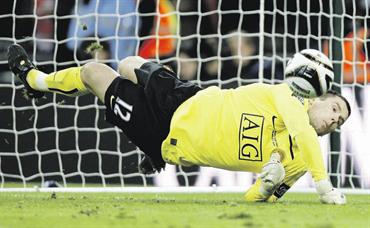 Technology today, EH?

"It's a new innovation for us. Eric brought it with him when he came to the club. I've never seen anything like it," astounded Manchester United's Ben Foster, when explaining how he used coach Eric Steele's iPod to predict which way Spurs players would put their penalties in the Carling Cup final. He delivered the revelation via carrier pigeon, having first dipped a feather into some sort of coloured liquid before scribbling on papyrus.

Three's company

"He'll be lying in bed thinking of things no one else has ever thought of...cricket-related, I'm talking about!" Shane Warne gives an insight into what keeps Kevin Pietersen, the England batsman, awake at night. It does beg the question, however, with KP happily married to Jessica Taylor of Liberty X "fame", how does the Australian know what goes on in the couple's bedroom? He's always been known for being a bit of a wild child, but surely that's pushing things a little.

Not-so slicky Ricky

Forget the dazzling, bright lights of Las Vegas. When Ricky Hatton promoted his May 2 fight with Manny Pacquiao this week, he didn't choose the glitz and glamour of 'The Entertainment Capital of the World' but instead opted for his local near Hyde in Manchester. The Filipino is known as 'Pacman' for the way he gobbles up his opponents, while the pudgy Hitman should be labelled 'Space Invader'...after his love of crisps.

Twit (Too-woo)

Rio Ferdinand, Manchester United and England's 'gangsta' defender, has taken time off from devising outrageously funny ways of "merking" his team-mates so that he can come up with something equally as nauseating for his wedding day. His plan is for Ollie the barn owl to swoop down the aisle and deliver the ring to his poor fiance Rebecca Ellison, who would have every right to complain of her husband's fowl play. She'd probably rather be "merked."
Follow Emirates 24|7 on Google News.