Stenson edges ahead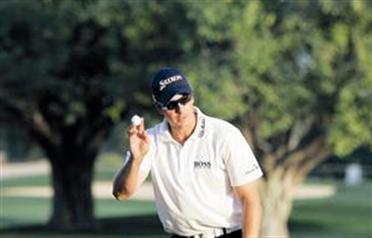 Former champion Henrik Stenson endured a long second day to the Dubai Desert Classic yesterday, but was ultimately pleased with leading a championship that has been put under threat by heavy fog.

Twenty per cent of the field were unable to commence 36 holes as the competition has now lost six hours of play since bad weather struck for the first time on Thursday morning.

Rory McIlroy was confirmed as the first round leader once the field had completed Thursday's rescheduled play following another lengthy fog delay early yesterday.

But the young Northern Irishman could only squeeze in three holes as his second round, which did not begin until 17:10, was suspended because of fading light. The 19-year-old dropped a shot to finish his curtailed afternoon on seven-under par.

That leaves Stenson in pole position on the leaderboard and the Swede, who resides in Dubai, says he will make the most of his close proximity to the Emirates Golf Club to come back recharged for today's round.

"I was here for six [yesterday morning], did my normal warm-up and then had to hang about for a couple of hours while the fog cleared up, but went out there and played pretty good," said the world No7.

"Living three minutes away, at least I can have a sleep. [Today's] going to be a pretty good day for me and I'm not even sure if I'm going to play anything at all. If there's a fog delay similar to what we have had, I don't think I'll be teeing off at all."

The third round is not expected to get underway until this afternoon, but, if there are further postponements, European Tour officials will have to decide whether to extend the tournament to a fifth day or shorten the event to 54 holes.

Stenson was undecided when asked if he would prefer to see the Classic running into Monday.

"I don't know. It doesn't really matter. There's been times where I think 54 has been good and vice versa. I'll just come out and play whatever they want me to. Obviously it's not too much fun for the guys that won't finish tonight, that's going to be a pain for them to have to come up [today] and wait in the morning to finish."

Stenson is well-placed to replicate his 2007 triumph after carding an impressive 65, which included eight birdies. The 32-year-old, who had to resume his first round on the 12th hole this morning, finished his opening 18 at four-under and returned to add an extra seven to his tally in the afternoon.

The Australian Richard Green was a shot back on 10-under, with Sergio Garcia, the in-form world No2, three shots further adrift.

Garcia's six-under 66 puts him into contention of yet another tournament, following fine performances in the Desert Swing thus far, and the Spaniard attributed his low scoring to his success with the driver.

"I've got to say I'm really excited about this year. The new driver I have – the R9 – it's just amazing how well it goes. I'm not only hitting it straight, but also further than I was."
Follow Emirates 24|7 on Google News.