Talking a good game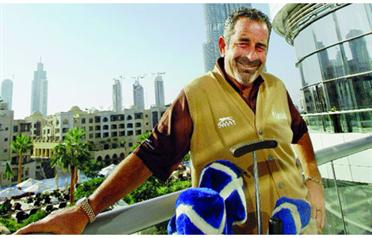 Friday, September 20, 2002. In a brightly lit garage in the wealthy village of Virginia Water, Surrey, one of Europe's best-loved golfers is preparing himself for the game's greatest honour.

Armed with an old tape recorder and standing at the very same lectern he will address the world from in one week's time, he stands all of his 1.8 metres, shoulders pinned back and chest out.

"Ladies and gentleman," he begins. The lines continue to flow from beneath his thick, jet-black moustache as if seared into his brain, the result of hours of dutiful practice every day for the past two weeks. But the occasion calls for it. He is about to lead Europe into battle against America – the old foe – at the Ryder Cup.

"For me that was imperative," Sam Torrance, who captained Europe to a three-point victory seven years ago tells Emirates Business in Dubai. "I didn't want to fumble and get things wrong when my team were down there watching and the whole world is watching me.

"The team's looking up to you, just as I had done many times before."

Indeed, Torrance was no stranger to the Ryder Cup. Having made his debut in 1981 as a Tour-hardened 28-year-old, the Scotsman holed the winning putt at the Belfry four years later, and in 1987, at Muirfield Village in Ohio, he helped Europe achieve a historical first win on American soil when they retained the trophy.

"Winning there was extraordinary," he recounts with a wide, unapologetic smile. "We'd never beat them in America and to do it when Jack Nicklaus was captain, at his club and on his own course, was fantastic. Everything about it was just fantastic."

Torrance represented Europe a further five times, automatically chosen each time as one of the 10 best golfers on the continent. September 1995 at New York's Oak Hill Country Club was his last as a player, where he gleaned four-and-a-half points from his American opponents over three days – a performance he cites as his best – to help his side lift the cup.

And when Mark James was chosen to lead Europe on golf's grandest stage in 1999, he sought the wisdom of an old friend and Cup veteran to act as his closest confidant. Torrance was enthralled by every detail.

"I was vice-captain to Jesse [Mark James] at Brookline and learned more about the captaincy that week than I did playing in eight Ryder Cups," he recalls, his raspy Scottish brogue almost entrancing. "You cannot comprehend what goes on behind the scenes to make sure that you're cosseted and everything's fine.

"I learned how to make sure the players had everything they needed, to make sure everything's done completely. I thought it was a fabulous, fabulous job; I thought it was fascinating. I loved every second of it."

Having extracted the intricacies of captaining a team at the Ryder Cup, Torrance was the obvious choice to replace James three years later (the biennial tournament had been postponed because of the 2001 attacks on the World Trade Centre) at Warwickshire's Brabazon Course.

He had been groomed, of course. Yet, despite obtaining insider knowledge at Brookline, Torrance now had to find the courage to deliver a rousing opening speech in front of his team and the world's media at the Belfry. His 12-strong side, which included future captain Nick Faldo – the Englishman ostracised for his limp lines in Kentucky last September – needed inspiration.

"That opening and closing ceremony were the only daunting parts of it," explains Torrance. "They were terrifying, absolutely terrifying. Having played in eight Ryder Cups and sat there eight times and watched my captain get up to speak, I used to just look on in awe and think: 'I could not do that in a million years'.

"And I think Faldo let himself down a lot in that respect. I don't think he did any preparatory work on it at all. Now that's bull to me.

"I had the podium that I would be standing on at the Belfry delivered to my house the week prior to the Ryder Cup and I was in my garage with a tape recorder for two to three hours everyday.

"I kept reciting my speeches and I could've said them backwards by the time I got there. I even ended up enjoying that bit too."

Torrance enthuses about every other aspect of the captain's capacity, describing picking the team, setting up the golf course, and choosing the players' clothes as "just awesome".

He even enjoyed sorting out the food for the week, a task that has seen him adopt a curious dish from the Spaniard Miguel Jimenez. For breakfast, a cereal bowl was filled with olive oil – "one of the most unusual requests I had" – and used to douse some bread.

"And I love it now," says Torrance with a gravelly laugh, before revealing his own modification. "A wee bit of balsamic vinegar in there – beautiful."

Jimenez has recently been linked with the captain's role for Celtic Manor in 2010, where Europe will attempt to wrest the Cup back after losing by five points in Valhalla four months ago. Other candidates mooted are Faldo again, Sandy Lyle and Jose Maria Olazabal, but Torrance suspects Ian Woosnam, captain at the K Club in 2006, will get the honour when it's announced later this month.

"Olly won't take it, he wants to play in another one. Faldo I don't know about, so I think it might be Woosie because it's in Wales.

"I couldn't," he admits when pressed if he'd like a chance to recreate those glorious scenes at the Belfry. "The most important aspect of the Ryder Cup captaincy is that he's the right man for the job. I wouldn't be the right man now. I've been off the Tour for eight years and, while I know all the players, I wouldn't be able to create that bond.

"It's a two-year process. You say things like: 'Oh, I can't wait to see what you're going to get in September', to build their confidence because, even if he's not in the team, he has a chance of making it. And if he doesn't, he'll be desperate to be in the next one."

And with that, thought turns to Newport in just under two years time. Europe will hope to utilise home advantage and regain the trophy from Corey Pavin, the newly-appointed American captain, and his travelling troops. The swaggering celebrations that accompanied the American win in Kentucky in September will continue to irk Europe's best, but Torrance is looking to the positives.

"America winning is good for the game, and good for the Cup," he says. "They want to win it, trust me they do. They've hated us beating them, but we put up with it for 30-odd years, so it can be their turn – We want it back."
Follow Emirates 24|7 on Google News.