UAE elite coaching provides platform for the future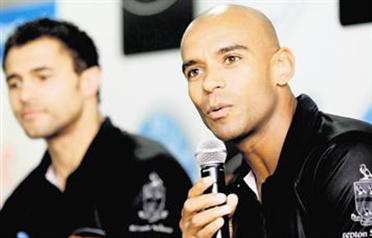 The names already associated with the Elite Sporting Academy prove just how fortunate young sporting hopefuls in the UAE are.

The development programme, officially launched at the Repton School in Nad Al Sheba on Thursday night, already boasts the venerable experience of former rugby players John Mamea-Wilson and Apollo Perelini, along with football's Tim Cahill and Carlton Palmer, but unveiled two very special guests who promised to give the academy their full backing.

Jason Robinson, scorer of a World Cup-winning try for England in 2003, and Trevor Sinclair, a member of the country's football squad for the World Cup a year earlier, joined the panel to endorse the exciting new venture. In fact, Robinson admitted to being a tad jealous of the opportunity offered to the region's young sport stars in the making.

"This is my first time out here and I'm really impressed," said the former dual-code international. "If I could do it all over again this would be the place I would want to do it.

"I didn't even have these facilities when I played in the Premiership so I am very envious. But to have the specialist coaches – guys who've played at the highest level and know the game inside out – it will be a great privilege for the children to rub shoulders with them."

The specialists come with a weight of worldly experience. Mamea-Wilson, who represented New Zealand's youth side and then Samoa at international level, founded the ESA after spending six years watching local rugby in the emirate.

The Samoan believes the UAE has the talent to make a name on the world stage, but realised it needed the correct conditions for those with potential to really thrive.

"I just thought it would be great if these kids got a bit of international-type coaching in Dubai without their parents having to send them abroad," he explains. "When you send them away you don't know what's going to happen, so let's bring them here and build pathways through the networks I have. So I brought these guys along and it just keeps getting bigger and bigger."

And they don't come much bulkier than his compatriot Apollo Perelini. The man mountain, aptly depicted by his 'Terminator' nickname, has spent the past five years as one of the key coaching components to the Super League success of English side St Helens.

Having also enjoyed a fruitful playing career in England and New Zealand, Perelini decided to say hasta la vista to the British game and join Mamea-Wilson in unearthing some new stars in the UAE.

He ran the rule over Repton's youngsters during a recent three-week stint as a PE teacher and, while he may not pack the same arsenal as Arnie did in the movie franchise, the children should be weary of facing tough tackling on the pitch.

"I don't see why not," he jokes when asked if he'll be taking on the kids directly. "But teaching the right tackling technique is definitely one of my main objectives. I've been watching a lot of the kids here in the past few weeks and I've noticed the technique needs to be improved because that's where you're going to get an injury.

"The great thing is that we have a lot of connections in the sporting world that's going to enable us to bring in respected coaches and also using celebrity coaches can enhance the kids' motivation to play. Superstars will light the fire and that's the aim."

One man who understands the Head of Rugby's concerns is Kirk Hamilton, the academy's new football coach who'll work under Palmer. The former Manchester United youth player was tipped to break into Sir Alex's first team until a series of injuries halted his top-flight career.

He then plied his trade at Blackpool and Royal Antwerp in Belgium, before accepting the position at ESA. And despite arriving only four months ago, Hilton has already seen enough to justify his decision.

"There's a lot of potential here," he enthuses. "And with the links we've got in England it's a fantastic opportunity for kids to go over to clubs there and see how it is to train as a professional.

"The scope out here is amazing and the facilities are great too. I'll be coaching every aspect of the game here. In the first 16 weeks we'll work on the basics, evaluate and then move on to positions. We'll also use the indoor five-aside pitch to work on players' weaker foot because to play football at a high level you need to be very balanced and versatile."

However, versatility won't be confined to the ESA's prospective footballers. The course – run for 16 weeks until the coaching staff can determine who'll join the 60-strong elite programme for each age group from 10 to 16 years in October – will attempt to supply a grounding in all areas of sport, including those away from the pitch.

"For the first 16 weeks we won't run any classroom lectures, but once we start in October it'll be a big part of what we're doing here," says Mamea-Wilson. "Once a month we'll run lectures on sports nutrition, sports psychology and media training.

"We'll bring in the right people to give the kids the necessary training off the pitch. Only one per cent make it professionally, so it's really, really tough, but we're providing some answers on whether the child is good enough or has potential.

"We also want to prepare a child to stay in sport, just maybe in another capacity. That could be anything from physiotherapy to sports journalism, but we'll offer the pathway and bring people into the classroom and chat about their experience."

It is easy to see why Sinclair's excited by the ESA and the former West Ham and Manchester City midfielder admits he's got a vested interest in the programme. His three sons attend Repton and will garner even more attention from Daddy as he joins the initiative as a specialist striking coach.

"My boys love to play football and I was a little worried that if they had the ability they might miss the boat because the coaching and training wasn't as good here as it is in the UK," says the 35-year-old.

"But when I found out about this coaching set-up I jumped at the opportunity. Sport in general is a healthy lifestyle, it's good socially and you learn how to discipline yourself, so it's good for developing life skills.

"It will be enjoyable for me too because I feel I'll get pleasure out of coaching the kids and seeing their enthusiasm. A programme of this pedigree will light that fuse and that desire, which is a great thing to offer."
Follow Emirates 24|7 on Google News.