Ultimate fighters book UAE date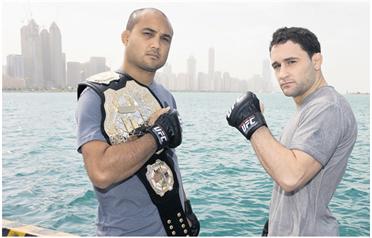 The US-based mixed martial arts sport will be holding its first outdoor bouts at UFC 112 as the kings of lightweight and middleweight defend their respective titles at Ferrari World Abu Dhabi Outdoor Arena on Yas Island in April.
The venue is no stranger to heavyweight events, having hosted Aerosmith and Beyoncé during last year's inaugural Abu Dhabi Grand Prix but it will be the first time it has played host to a sporting dual.
First, UFC lightweight champion, BJ "The Prodigy" Penn puts his belt on the line against No 1 contender, Frankie "The Answer" Edgar before middleweight king, Anderson "The Spider" Silva defends his crown against fellow Brazilian striker, Vitor "The Phenom" Belfort.
Yesterday's announcement comes less than two months after Abu Dhabi-based Flash Entertainment revealed it had bought a 10 per cent stake in UFC. However, Lorenzo J Fertitta, Chairman and CEO of Zuffa,  which owns the premier UFC told Emirates Business, the region has been on his radar for a while.
"One thing we have focused on since 2007 is international expansion. One goal is to bring this event to all areas around the world and we've always wanted to come here because of the tremendous success we've had on TV, so we know there is a market," said Fertitta, who lives in Las Vegas, where the UFC is based.
"We've been very successful at taking UFC to the UK, Ireland and Germany. We also sold out the Acer Arena in Sydney within an hour for an event there next month."
Although refusing to reveal the exact prize money for the April 10 bouts, he said it would run into millions of dollars. With what Fertitta would like to become an annual event, he hopes these first title fights will entice a sizable UAE audience.
"We are looking to create fans and think the best way to do that is for them to experience it live. That's how we've grown the business in Las Vegas and we hope to do the same here. Even though it's outside, it will have the same energy and elements. The music is loud and there will be screens all around. I'm confident it will be a sell-out," he said.
Flash Entertainment's Managing Director, John Lickrish, is equally excited about the upcoming title fights. "UFC 112 is going to be incredible. Flash and the UFC have been working very hard to bring this event to fruition. We're delighted to announce what will truly be a great night of sport in Abu Dhabi.  We can't wait to welcome these elite athletes, and showcase a truly magnificent sport to the people of the region," he said.
Follow Emirates 24|7 on Google News.
Ultimate Fighting Championship (UFC) is coming to Abu Dhabi later this year and creating a world first in the process.