Women's game is growing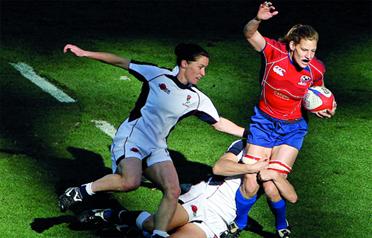 When Sue Day steps on to the turf today at The Sevens, she and the England team that she captains will also be stepping into the history books.

The inaugural Women's Rugby World Cup Sevens gets under way today, a day after the men's tournament began, and Day believes the inclusion of the female form is a major step forward for the sport.

"You can't overstate just how important it feels to be part of the first ever World Cup," said Day. "I think all the teams just want to put on a good show."

The England team were the No1 seed going into the tournament and although Day is feeling confident of emulating her country's men's team, who won the inaugural Rugby World Cup Sevens event in 1993, she is wary of the opposition.

"Of course we are confident, we have won a couple of tournaments on our way here, but we also know how good the other teams are," said Day, whose team play their first game today against the USA.

"We played the USA and Canada recently and know they are very good. We haven't had a chance to play New Zealand or Australia, but we know they will also be competitive.

"So, yes, we are confident, but we also know there are a lot of good teams out there.

"We might be seeded No1, but the fact is we haven't played all of the other teams, yet."

The aspect that pleases Day the most about Dubai is the immense support the England team get from the crowd here.

"It is a wonderful and well run tournament and to play a couple of games in the main stand in front of a wonderful crowd is absolutely brilliant," she said.

"There is quite a big expat community here so we've got a lot of support, which is lovely. We played in America, in San Diego, and they had home support, which really lifted their team. So we are grateful to get any support we can here."

The Dubai Rugby World Cup Sevens will be under scrutiny by the International Olympic Committee (IOC) as they seek to make a decision on whether to include the game at the Olympics. Day hopes the women's game can benefit from the exposure.

"I hope this World Cup will help people take [the women's] game seriously," she said. "People that take the time to watch it, will see it's a skillful game, just like the men's and it's worth watching and supporting."

RWC Sevens Tournament Director Beth Coalter added: "What's so exciting about this is the buzz you can see around with the men's and the women's teams being all together. It shows the women there is a standard there to go for."
Follow Emirates 24|7 on Google News.